Your Payment is Secure with our PayPal Checkout.

Leapers, Inc., headquartered in Michigan, U.S.A., has been in the business of supplying shooting, hunting and outdoor gear since 1991.
Shively Sales carries Leapers Branded Product Lines of UTG, UTG Pro, AccuShot, 5th Gen and TactEdge.
We pay close attention to industry trends and customer feedback, with a focus on making the best-in-class niche products available for hunting, shooting and outdoor enthusiasts like you.
As a Factory Authorized Dealer, all Leapers Products purchased through our web site carry a Full Factory Warranty, and our own 100% Satisfaction Guarantee.
You can order with confidence using our Secure PayPal Shopping cart.
When you Click on the "Add to Cart" Button, a Secure PayPal Shopping Cart will appear in a new window, you can add or remove contents of your cart and enter your zip code for shipping costs. When you use PayPal, your financial information is not shared with the merchant. Once your payment is complete, you will be emailed a receipt for this transaction.
All In-Stock orders are shipped from our inventory the Next Business Day.
Click On Any Picture to Enlarge
LEAPERS
Deluxe Universal Shotgun Forend Wrench
Model# TL-SHWR01
Imported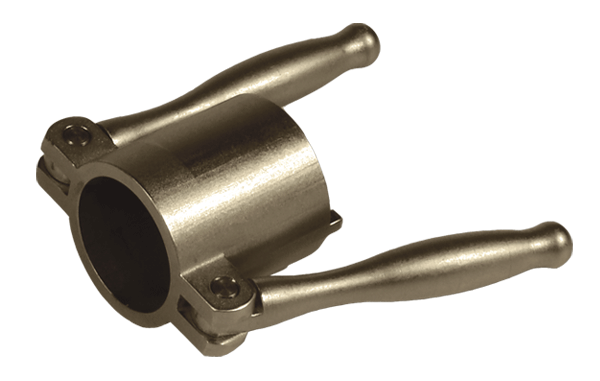 Made from Alloy Steel with Nickle Plating to prevent rust, This is one handy tool for Shotgun owners and Gunsmiths alike.
This Wrench has an Outside Diameter of 1.250" and will remove the Castle Nut that holds the forearm on many popular 12 Gauge or Large Frame 20 Gauge Shotguns that have a 1" O.D. Magazine tube and a 2 notch nut.
Fits Remongton 870, Mossberg 500A, Mossberg 500C, Mossberg 835, FNH USA SLP Shotgun, Browning BPS, Ithaca 37 (made after 1980) Winchester 1200 and 1300
Customer Testimonials;
Hi Lance and Tammy,
Just a quick note to thank you and let you know that the wrench I purchased from you guys for my 870 is more than I expected. The build quality is excellent. I'm sure it will last more than my lifetime. For the same money as some of the junk I see on E bay, I'm glad I purchased this item from your store.
Thanks Again!
Jay
I just bought one of these from you and used it on my 870. It fit
perfectly and worked perfectly. Well built high quality item.
Thanks,
Rich
TL-SHWR01 $23.95 FREE Shipping