****************
Sig P226 / P228 / P229 Decocker Shims
Model: 220, 245, 225, 226, 229, 239, 228 all use the same
Decocking Lever Bearing #466370B
so should use the same shim
Fit Guaranteed or Your Money Back!
Stops Decocker Rubbing the Frame - (.207" X .419")
Quality Decocker Shims for P226, P228, P229 and similar.
Available in .002" through .009"
Choose Quantity for your Best Price and Specify Thicknesses in Box Below
Multiple Thicknesses may be listed together for Quantity Pricing
****************
Lance,
Sig P series are notorious for a stiff DA. I also installed a lower-power hammer spring, which helped a lot. Stock trigger/spring guns could benefit a lot from shims due to high friction, especially on the off-trigger-finger side, but clearance would be an issue, which careful stone work could overcome. Shims with a trigger replacement is a no-brainer. The diameter is perfect - shims are installed in the photo.
- Best, Owen in CA
Quality Trigger Shims for P226, P229 and similar.
May not fit Legion or other models - Check size before ordering
Available in .002" through .009"
Choose Quantity for your Best Price and Specify Thicknesses in Box Below
Multiple Thicknesses may be listed together for Quantity Pricing
****************
Sig Sauer P-226 P226 9mm Performance Pak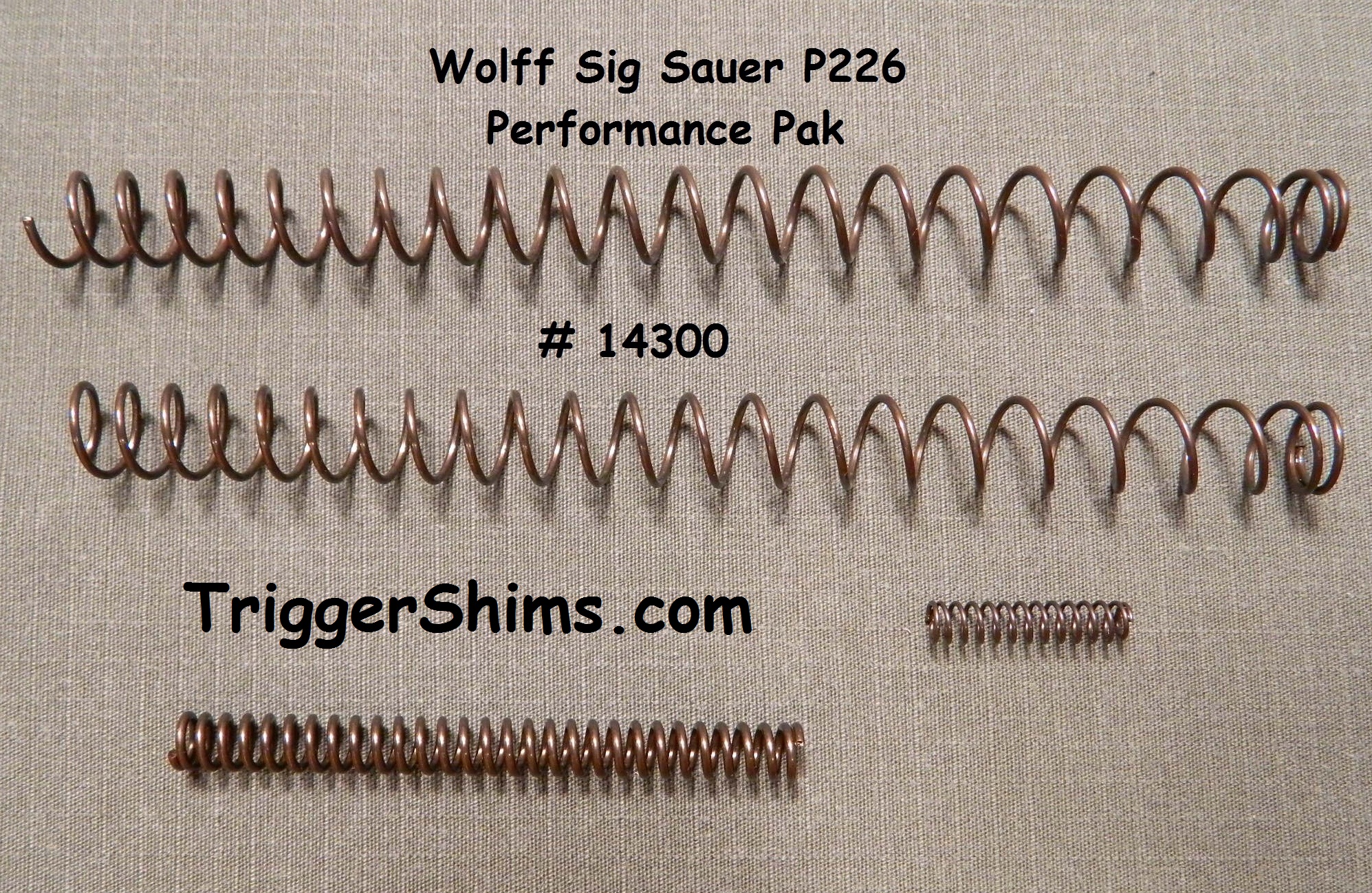 Wolff # 14300
For 9mm Sig P-226 contains 1 each 11 Lb. Reduced Power Variable Recoil Spring, 18 Lb. Extra Power Recoil Spring, Extra Power Firing Pin Spring and 17 Lb. Reduced Power Hammer Spring.
Note: Factory Standard Recoil Spring Weight for 9mm is 15 Lbs.
Recently Sig has started using a plastic hammer spring base/retainer with a short hammer spring. This is being phased in across all models. If your pistol has the plastic base/retainer for the hammer spring you can purchase the Hammer Spring below.
Wolff 14300 $17.95 Free Shipping