TriggerShims
Lithgow Arms LA101 Crossover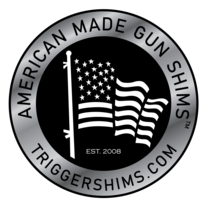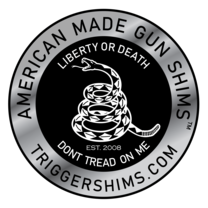 Rebellion Against Tyrants is Obedience to God
~ Benjamin Franklin ~
Manufacturer of
Trigger Shims Brand
American Made Gun Shims
- Home of -
TriggerShims.com
GunShims.com
ShivelySales.com
MichiganCenterOutdoors
SmallShims.com
Gun Shims
Gun Smith Supplies
Since 2008
WWG1WGA
We Manufacture the Widest Selection of Gun Shims to be Found Anywhere on the Planet
100% American Family Owned
Shively Sales - Manufacturer of
TriggerShims Brand
Gun Shims
in
Michigan Center, Michigan
"Better to be poor and honest than to be dishonest and rich." Proverbs 28:6

God Bless the U.S.A.
American Made Lithgow Gun Shims
Lithgow LA 101 CrossOver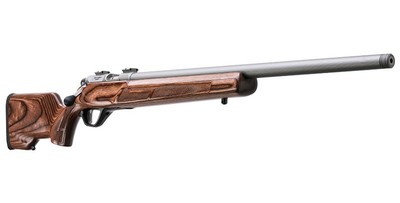 The Australian made LA 101 CrossOver is a crossover hunting / varmint / target rifle with modern tactical styling, high accuracy and reliability. Under the CrossOver banner, Lithgow Arms has produced a rimfire rifle that can be used in a sport shooting match one day and then carried into the field the next ~ Link Below
Lithgow Arms LA101 Crossover Home Page
BOX~LA101
Bolt Shims for Australian Lithgow LA101 Now In Stock
Lithgow LA101 Crossover Bolt Shims
LA101 Bolt Shims .595" X .690" Now In Stock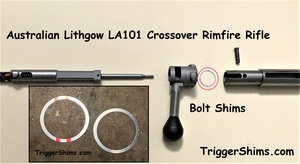 LA101's action is its rear-locking design, featuring three hardened lugs. This design makes for an incredibly smooth-feeding rifle, a shorter bolt throw and a safer and more reliable firearm.
How does a Rimfire Bolt Shim work? The actual head space is in the recessed face of the bolt. Shimming between the two bolt halves ensures the bolt is up snug against the breech. If the bolt has excessive clearance at the breech it can to cause misfires and light strikes, or simply inconsistent accuracy. When a Production Rifle is assembled, a bit of extra room or excess tolerance can be left, and this slight variable can affect accuracy. When the bolt action rifle's bolt locking surfaces become worn increases in the headspace can cause light firing pin strikes, poor ignition (misfires), looseness of the bolt, and loss of accuracy.
Factory fitting of the barrel into the receiver can also leave excess clearance between the bolt and breech. Shims can also used for adjusting after Re-Barreling If you are getting misfires and light strikes shimming the bolt may be a good way to solve it.
These are the Original TriggerShims Brand Lithgow LA101 Crossover Rifle Bolt Shims
A 4 Pak should do most any gun, Order multiple Paks for Multiple Guns and Save $$
4 Pak Assortment - $11 includes 1 each .002", .003", .004" and .005"
8 Pak Assortment - $18 includes 2 each .002", .003", .004" and .005"
12 Pak Assortment - $24 includes 3 each .002", .003", .004" and .005"
16 Pak Assortment - $32 includes 4 each .002", .003", .004" and .005"
2 Shim Pak - $7 *Specify your size in Box Below .002" - .007"
LA101 Bolt Shims .595" X .690"
Item # SS-LA101/BS Bolt Shim Pak
TriggerShims was asked by an Indiana Shooter to make shims for this bolt, and we have listened.
Used as a measuring device and an adjustment tool if needed, shims are installed until the Bolt just touches the barrel face, and then reduce by .001"
Sold in paks of 4 to check and adjust bolt to barrel fit