Thank You!
Tammy and I
Sincerely Appreciate Your Patronage

God Bless the U.S.A.

~Ollie's Links~
Ruger 77/22 and M77 Series Rifle
Manufacturer of
Trigger Shims Brand
American Made Gun Shims
Gun Smith Supplies
Since 2008

God Bless the U.S.A.

God Bless the U.S.A.
TriggerShims Brand Gun Shims
Ruger 77/17 77/22 and M77 Style Rifles

Ruger 77/22 Series Bolt Action Rifles
Ruger 77/17 - 77/22 - 77/44 - 77/357
TriggerShims Brand The Original Manufacturer of

Bolt Shims
Trigger Shims
Sear Shims

"Accept No Substitutions"
~ Links to Items on This Page ~
Your Visa/Mastercard Payment is Secure
TriggerShims 77/17 ~ 77/22 Bolt Shim Description
*The Original 77/17 ~ 77/22 Bolt Shims*
How Does a Bolt Shim Work?
The actual head space is in the recessed face of the bolt. Shimming between the two bolt halves ensures the bolt is up tight against the breech. If the bolt is not up tight against the breech it tends to cause misfires and light strikes. If you are getting misfires and light strikes shimming the bolt is a good way to solve it.
Generally the excess space between the two bolt halves is as between .002" and .006" but can be as much as .010"
My 4 Pak kit includes 1 Each of ~ .002" .003" .004" .005" shims for a total of .014" potential adjustment, and thicker shims can be requested if needed.
Accuracy problems can sometimes be caused by a loose bolt,
Our Original TriggerShims Brand Bolt Shims can
solve accuracy problems caused by a loose bolt.
TriggerShims Ruger 77 Bolt Shim 4 Pak include:
1 x .002" - 1 x .003" - 1 X .004" and 1 X .005"
for a total of .014" potential adjustment so you will be assured to have more than needed to adjust one rifle.
Our testing has shown trying to shim to less than .001" unnecessary,
and while I can make you .001" shims they are I feel too fragile to be practical
If a .002" shim cannot be installed because the bolt will not close,
or closing requires too much force, your actual working clearance
is where it should be, (.001"- plus or minus .0005")
and you are the lucky one to have a rifle from the factory
that is already in the "Sweet Spot"
Don't be fooled by COPY~CATS
This is the Original TriggerShims Brand 77/22 Bolt Shim Kit!! Used and Approved by Thousands of Shooters Worldwide!
TECH TIP VIDEO: Ruger 77/22 and 77/17 Bolt Shim Installation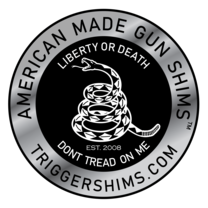 $11 Bolt Shim Kit
77/22 Bolt Shim Kit $11
Our Bolt Shims Fit All Rimfire and Straight Wall
Ruger Bolt Action Rifles based on Bill Ruger's Original
77/22 Two Piece Bolt Design Including: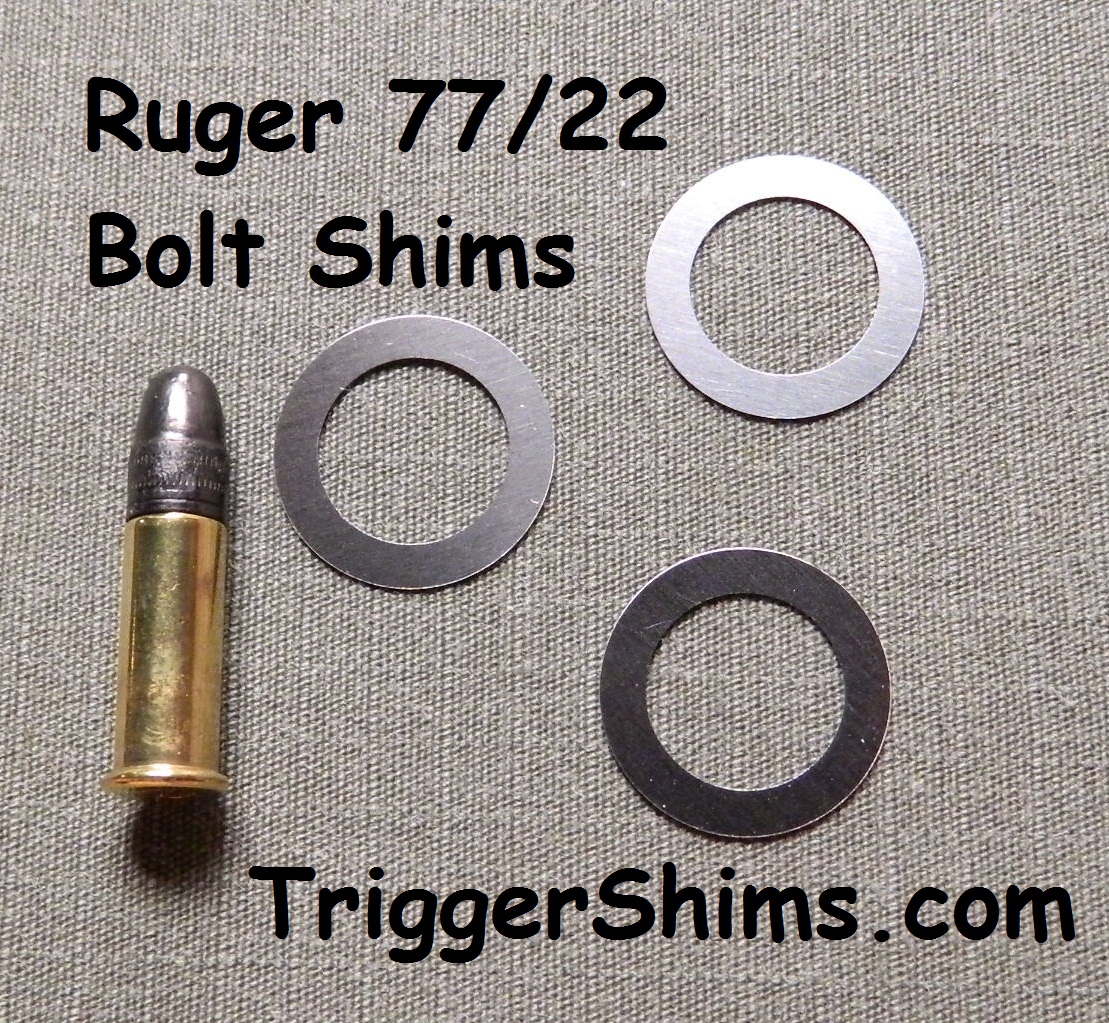 77/17
77/22
77/357
77/44
Long Rifle
Magnum
WSM
HMR
Hornet
The Original TriggerShims Brand
Ruger 77/22 - 77/17 Bolt Shim Paks
Our Stainless Steel Shims will fit all the 2 Piece 77/22 77/17 Bolt
or any bolt with Factory Number J1001 Bolt Handle
This includes 17 Hornet, 17 HMR, 17 WSM, 22 LR,
22 WMRF, 22 Hornet, 357 Magnum, & 44 Rem Mag
Our Bolt Shims are a nominal .440" X .650"
Available in your choice of Thickness in .001" increments:
.002" .003" .004" .005" .006" .007" .008" and .009"

.001" shims are too thin/delicate to be practical.
In my opinion, proper clearance is .001"
and if a .002" shim is too tight, no shim is needed.
This is the Original TriggerShims Brand 77/22 Bolt Shim Kit -
Choose Quantity from Drop Down Box below
4 Pak Assortment - $11 includes 1 each .002", .003", .004" and .005"
8 Pak Assortment - $18 includes 2 each .002", .003", .004" and .005"
12 Pak Assortment - $24 includes 3 each .002" .003" .004" and .005"
24 Pak Assortment - $36 includes 6 each .002" .003" .004" and .005"
2 Shim Pak - $7 *Specify your size in Box Below .002" - .009"
Item # SS-77/22-17BS Bolt Shim Pak - price includes Free Shipping
77/22 77/17 77/.17 WSM 77/.17 HMR 77/.22 Long Rifle 77/.22 Magnum 77/.22 Hornet 77/.357 Magnum 77/.44 Magnum
Lance,
Your shims turned an unruly Ruger 77 in .22 Hornet into a keeper. - Frank in NJ 4/19
7722 Bolt Shim Kit
Installation Instructions
Installing Bolt Shims requires fitting by hand, with the Bolt Installed
in the Rifle, and Locked Down. You do not measure with the Bolt out of the Rifle.
You will need one standard 4 Pak to properly fit one rifle.
You will generally only use 1 of the 4 shims in the package.
Start with the thinnest shim, (.002") and install, then check to see how your bolt closes.
As long as it continues to close normally, continue to add shims .001" at a time, stacking as necessary.
(Example = .003", .004", .005", Stack .002"+.004"=.006" .003"+.004"=.007" etc.)
When you have installed enough shims that the bolt just begins to be hard to close,
remove .001" so it closes normally or just (ever-so) slightly tighter than normal.
If you have to force or put undue stress on your bolt to close it, you should reduce the number of shims.
The Bolt Play between the Bolt Halves was designed into the assembly by Mr. Ruger
We are only concerned with the Bolt-Breech lock-up fit, and there you can have anywhere from
<.001" ( perfect) to >.005"+ which will definitely affect accuracy."
A minimum of clearance should be maintained, do not put undue stress on bolt by shimming under .001" as it is unnecessary!
The only (easy) way to measure this is with a $11 Bolt Shim Kit, which
is both a Measuring Tool and a Fix.
Bolt Shims have in many instances cured light strikes.
Will they help with Accuracy? Don't take my word for it,
Read the Customer Reviews at the bottom of this page or on our Reviews Page.
Simply by chambering more consistently, yields more consistent results.
Trigger and Sear Shims
Ruger 77/22 77/17 Trigger/Sear Pin Shim Paks
Our Stainless Steel Shims will fit 1/8" Trigger Pins, are 1/4" outside diameter and will fit a multitude of applications including the D19 Trigger Pivot Pin found in the 77 Rifles and variations including the 77/22, 77/17, 77/22 Hornet 77/357 and 77/44 and Mark II, M77 Mark II Sporter, and this shim will also fit the Ruger 10/22
Available in your choice of Thickness in .002" .003" .004" .005" .006" .007" .008" and .009"
Choose Standard Assortment OR email me with special size requests.
2 Pak .002"
4 Pak 2 Each .002" and .003"
8 Pak 4 Each .002" and .003"
10 Pak 2 Each .002", .003", .004" .005", .006"
12 Pak 4 Each .002", .003", .004"
24 Pak 8 Each .002", .003", .004"
NOTE: These Shims are for the Trigger
These are NOT Bolt Shims
Item # SS-1/8TSP Shims for Trigger price includes Free Shipping
TECH TIP VIDEO: Volquartsen Target Sear Trigger Kit VC77TS for Ruger 77/357 77/44 77/22 77/17 Series Rifles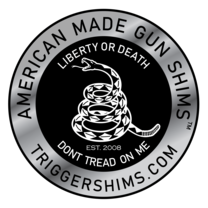 Volquartsen 77/22 Target Sear Kit
Volquartsen 2 Pound Trigger Pull Kit
Volquartsen Target Sear Kit
Fits 77/17-All and 77/22-All
Also Fits 77/44, 77/357 and 77/50
Improve Your Accuracy with a Lighter and Smoother Trigger Pull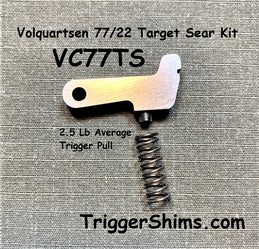 Drop-In For Crisp, Light, Trigger Pull, the Volquartsen Target Sear Kit
Greatly improves trigger pull and let-off with no fitting required. Surface-ground from hardened steel, sapphire honed and polished with a special return sear spring.
Designed to reduce the Trigger Pull to approximately 2 to 3 lbs. The mating surface is precision surface ground.
Includes Lighter Trigger/Sear Spring - Free Length .625"
Use with Wolff 30371 Trigger/Sear Spring for a slightly increased Trigger Pull - around 2.5+ Pounds.
Fits, 22 LR, 22 WMR and 17 HMR, 17 WSM and 77/22 and 17 Hornet
Also Fits 77/44, 77/357 and 77/50
New Lower Price - Compare to $54.99 at Timney Our Kit now $43.95
Stock No. VC77TS.........$43.95 - In Stock and Ready to Ship
You Will Enjoy the Trigger Pull Long After Price is Forgotten!
Volquartsen has 45+ Years Experience in Firearm Performance Enhancements!!
100% Satisfaction Guarantee Included
The SEAR generally is the deciding factor in Trigger Pull, springs are secondary, and MUST be strong enough to function properly.
Trigger Pull Weight can be changed by alternating between the Stock Spring, the Wolff 30371, and the spring included in this kit, which is the lightest of the three springs
IN STOCK and READY TO SHIP - U.S.A. Only
I always have these in stock, but you are welcome to call me
at 517-499-5366 Cell anytime so I can tell you in person
Volquartsen 77/22 Target Sear # VC77TS......$43.95....Free USA ONLY Shipping!
Wolff GunSprings for Ruger Bolt Rifles
77/22-17 Reduced Power Trigger / Sear Spring
Wolff 30371
RUGER 77/22 .22 CALIBER REDUCED POWER
TRIGGER / SEAR SPRING




40% Reduced Spring Weight -vs- Stock Spring

-
NOT 40% reduction in trigger pull weight
Free Length .830"
Will give an average Trigger Pull Reduction of 1/2 to 1 Lb
when replacing a new stock spring.
Excellent replacement when 100% reliability is important!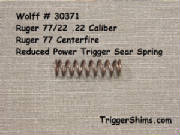 Ruger 77/17 AND 77 Centerfire Models - 77/357 77/44 77/50
Also Model 77 Mark I and II Long and Short Actions
Use this spring with the VC77TS if trigger pull is too light.
NOTE: Not for Target Models and Hawkeye Series
Not for use in Discontinued model 77
Contains: 1 Reduced Power Trigger/Sear Spring
NOTE:
The Sear Spring does not have the major effect on trigger pull, the Sear does.
The Sear Spring is only a minor part, note the Wolff Spring is 40% lighter than a new stock spring, however that WILL NOT make a 40% difference, usually it will reduce your measured trigger pull on a new rifle by about 1/2 pound, less on an old rifle with a weaker spring.
Stock No. 30371.....
$ 8.95
Wolff 30371 $8.95 Free USA ONLY Shipping
RUGER 77/22 RIFLE TUNE-UP PAK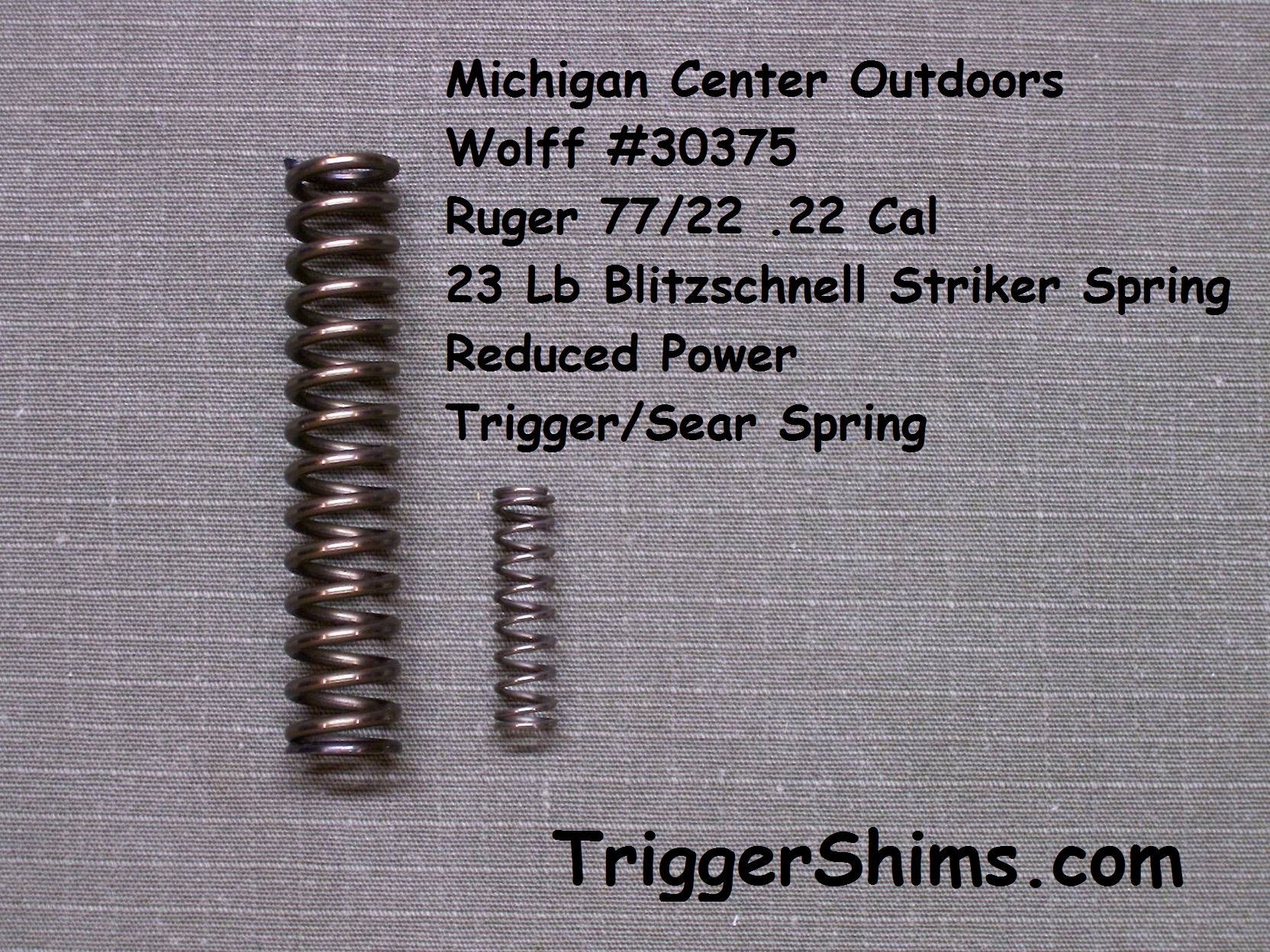 Includes 77/17 and 77/22 Hornet
Ruger 77/357 and 77/44
Pak contains 1 each 23 Lb. Blitzschnell striker spring and 1 each Reduced Power Trigger / Sear Spring to Improve Trigger Pull.
This Striker Spring is Wolff 23# 65723
Stock No. 30375.....$ 15.95 ~ Free USA ONLY Shipping
---
Wolff BLITZSCHNELL® precision speed-lock rifle striker springs for bolt-action rifles are made from the highest quality, high-tensile round section wires, as are all Wolff Springs. Each Blitzschnell striker spring has squared ends and is individually hand ground to provide flat seats, cleaned and oiled for long life and solid performance andrequire no fitting. Blitzschnell striker springs provide dramatic improvement in lock-time over fatigued and factory springs which can greatly improve accuracy and reliability of bolt-action rifles. Each Blitzschnell striker spring is individually packaged and identified, and is ready for immediate installation and use.
A Special Tool is needed to install Ruger Striker Spring - Consider Our Tool Listed Below
Menck Bolt Disassembly Tool
TOM MENCK - REMINGTON/RUGER® BOLT TOOL
TECH TIP VIDEO: Ruger 77/22 Reduced Power Sear Spring Installation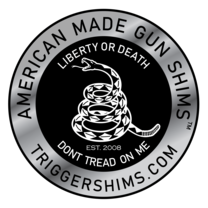 Tools for Ruger 77/22 - 77/17 Bolt Rifles
REMINGTON® / RUGER® BOLT DISASSEMBLY TOOL #2020
New Remington and Ruger Bolt Tool - For Disassembly of Remington 600, 700 and Ruger M77 and 77/22-17 Rifle Bolts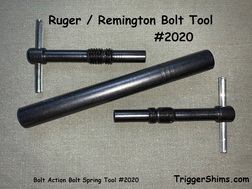 As of 2020 ~ We have acquired another Small Lot of Menck Bolt Tool parts and have a fair quantity of tools now on hand
All Tools are Top Shelf Quality, The #2020 Menck Remington and Ruger Bolt Disassembly Tool,
Available Only at TriggerShims.com
7-1/2" steel tool makes bolt disassembly simple. For Remington 600, 700 and Ruger 77 bolt action rifles.
Eases Disassembly Of Firing Pin & Spring In Remington 600-700 Series and Ruger M77
One end for Remington 600-700 series bolts including XP-100 and 40;
The other end for Ruger M77 and 77/22-17 and 357/44 Caliber Models
Handscrew compresses Striker Spring until cross pin can be driven out
Specially Designed to Safely Compress Without Damage to Firing Pin on 600 / 700 and M77 Models
This tool would easily cost 1.5 times our asking price to produce at today's manufacturing rates!
Own the Original Tom Menck Remington and Ruger Tool,
Designed and Originally Manufactured by a True Craftsman and Journeyman GunSmith, Tom Menck
I literally bought buckets of parts from Menck Estate, and this year (2020) I had some missing parts made and resurrected this Fine Old Tool
I have a mixture of these, some with black cross handles, some silver, you will be shipped what is available. I have had all parts freshly treated with Black Oxide for 2020, a photo copy of the Original Instructions included, and also included my own 2" hardwood dowel spacer specifically for the Ruger 77/22-17 and 357/44 models ~ You do NOT need this tool to install Our Bolt Shims
"This Bolt Tool is a Must-Have to change the Striker Spring on these Bolt Action Rifles, Makes Bolt Disassembly a Breeze, Well Made and Worth Every Penny!"
~ Ralph the Gunsmith in MI
Buy Two or Three and Save $$$!
Free Shipping ~ USA Only ~ Guaranteed In-Stock Order Now!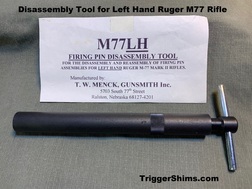 NEW ITEM:
TriggerShims Bolt Tool for M77 Left Hand Rifles
This is my M77LH Bolt Tool - to my knowledge,
this is the only LH Bolt Tool made for these rifles.
Used to disassemble the Firing Pin and replace the striker spring
Works with Ruger M77 Mark II Left Hand Rifles
Free Shipping ~ USA Only ~ This is a LEFT HAND Tool
TECH TIP VIDEO: Menck Bolt Tool demonstrated below on a
Remington 700 by Larry Potterfield
TECH TIP: Ruger 77 Striker Spring Installation
Ruger 77 Striker Spring Installation - $42.50
Installing the Striker Spring on Ruger 77 Rifles requires a Special Tool
The tool can be purchased from us, or you can send me your bolt and I will do it for you.
This is an easy straight-forward installation, I show you how in the Ruger Striker Spring Installation Video.
For the Folks who do not want to do this themselves, I offer this service; For a Flat Fee of $42.50 I will disassemble your bolt, clean it, Provide and Install a New Striker Spring kit , ($15.95) reassemble and lubricate, and Provide Return Shipping Post Paid - Insured. ($11.50)
To request this service, shoot me an email and I will send you shipping and payment details.
TECH TIP VIDEO: Ruger M77 Factory Disassembly Video
M77 Mark II and Hawkeye Rifle (NOT 77/22)
TECH TIP VIDEO: Ruger M77 Factory Reassembly Video
M77 Mark II and Hawkeye Rifle (NOT 77/22)
RUGER M77 MARK II
CENTERFIRE RIFLE
PERFORMANCE PAK
Wolff 30376 Spring Pak
Wolff GunSprings for Ruger M77 Mark II Bolt Rifles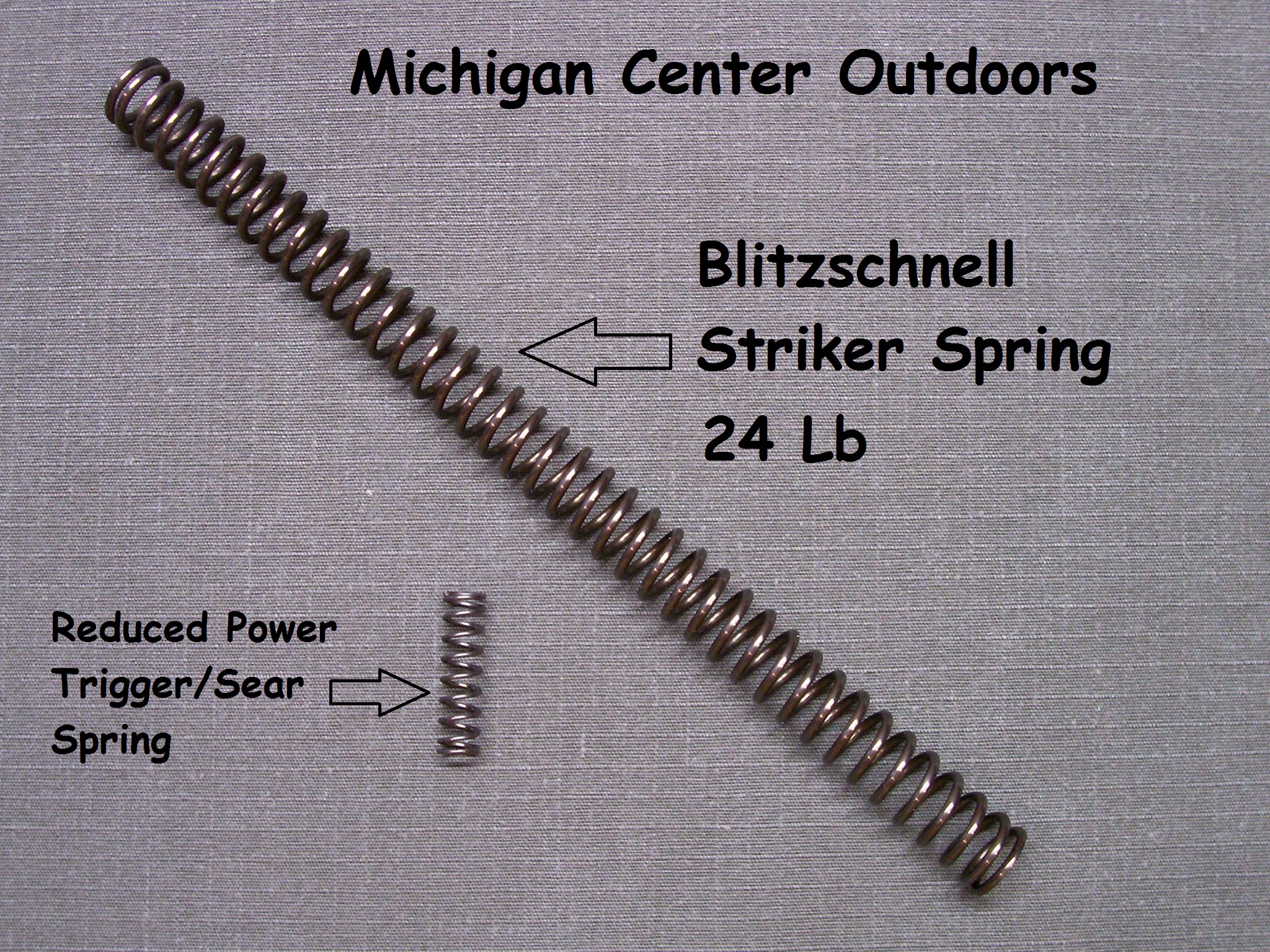 Pak contains 1 each 24 Lb. Blitzschnell striker spring and
1 each reduced power trigger/sear spring to improve trigger.
Fits Centerfire M77 and M77 II Long and Short Action Models
This Striker Spring is Wolff 24# 64024
NOTE: will not fit Target models and Hawkeye Series
NOTE: Trigger/Sear spring fits Mark II Only
NOTE: this kit is NOT for 77/22 - 17 - .357 - .44
Stock No. 30376
Wolff 30376.......$15.95 Free Shipping USA
Customer Reviews
Lance, When last we corresponded I had completed several modifications to my vintage 1984 Ruger Model 77/22 that had not been shot until I became its proud owner. I installed your trigger kit, floated the barrel and installed your bolt shims. The vintage Burris scope I installed has been replaced with a Primary Arms 4-16X44mm scope, primarily to add more elevation for shots longer than 200 yards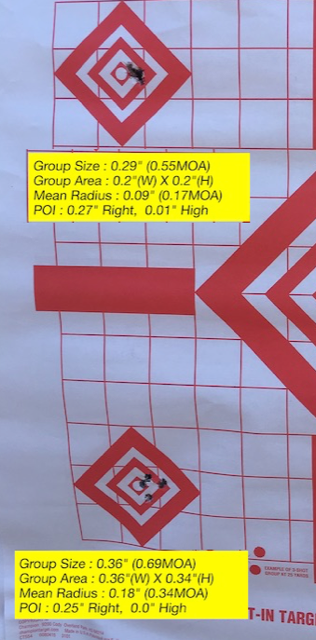 I was disappointed that the Burris didn't work for me as it enhanced the appearance of my "period piece" project.
I've probably put five hundred rounds through the rifle and have gotten a good feel for how it shoots. As you no doubt realize, the bolt on the 77/22 is massive when compared to most .22LR rifles. This probably explains the heavy feel of the bolt as it is cycled. I'm hopeful that the bolt will continue to smooth and cycling will be easier as the round count builds.
I got to the range yesterday for an hour of shooting. After refining my zero I shot two targets (five rounds each) that are worth passing on. I believe this performance is what can be expected if the system is working well. The best target was 0.29" extreme spread which was followed by 0.36". I am extremely pleased with the 77/22's performance following the modifications provided by you.
Thank you so very much,
Norm in TX
Hello Lance,
I bought a Ruger 77-44 back in 1997. I put on a nice Leupold scope and went to the shooting range with several of my favorite loads. It shot a 12" pie plate size group at 100 yards. I was very disappointed, so I cleaned it up and took it home and stuffed it in the very back of my vault.(out of sight, out of mind). I have two revolvers that will out shoot this rifle with open sights. Several years later, I took it out and tried several more "favorite loads". It shot a nice 12" group. I then took it to my local gunsmith and had it pillar bedded and crowned and everything checked out. Back to the range for yet another nice 12" group. I was beyond disappointed. So, back to the very back of the vault.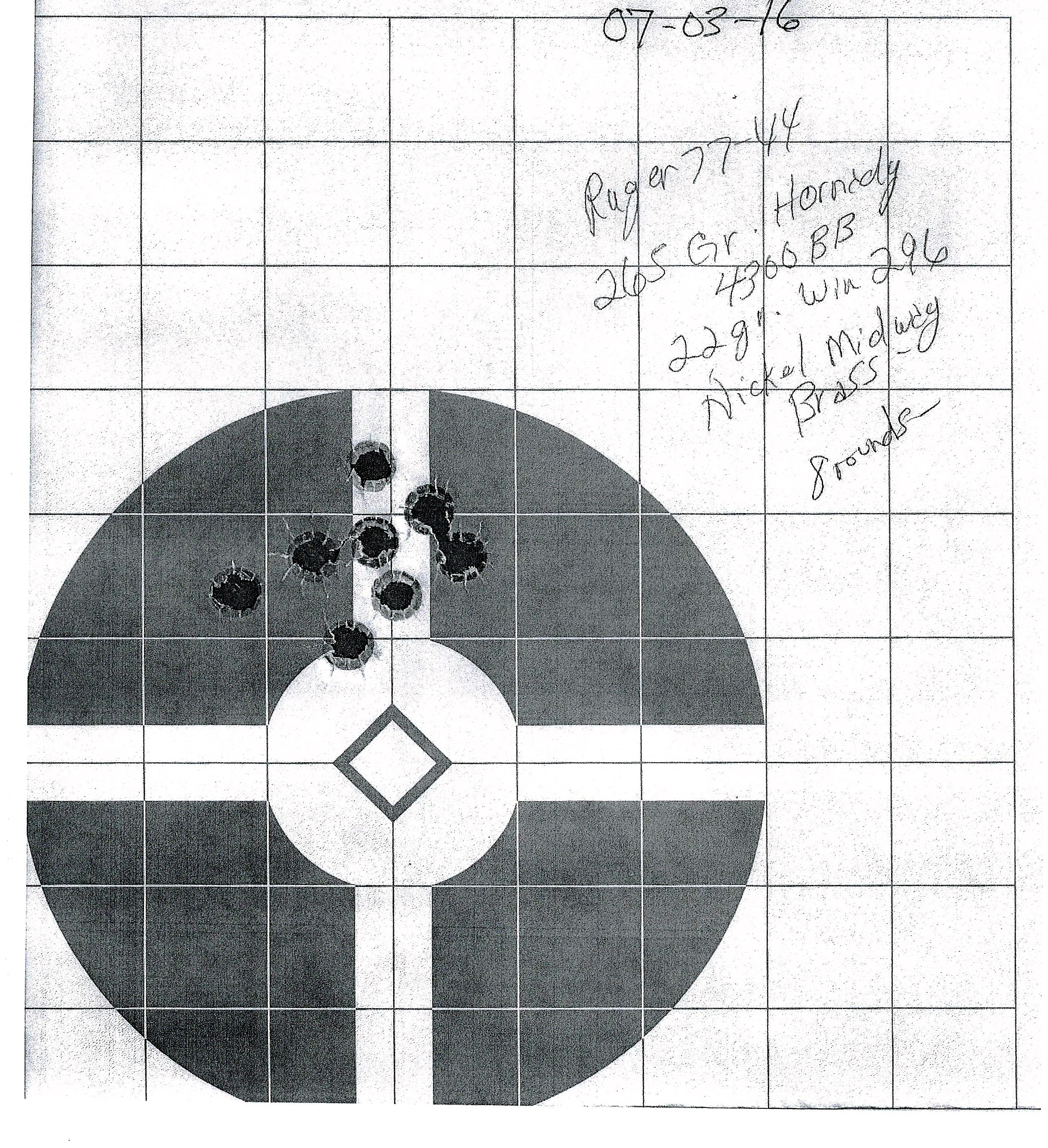 One day I was sitting at my computer and I put into Google, "Why won't my Ruger 77-44 shoot? I started reading and that is how I found you. I ordered the bolt shims and springs and installed them right along with your video. Then back to the range with my favorite loads, and WOW, was I surprised. I am sending you my best group target on that day. My group went from a pie plate to a tennis ball with your parts. Thank You for the excellent parts, video, research and information.
- Scott
Hi Mr. Shively, I meant to write you much sooner than this, but better late than never? I had to tell you that the Ruger 77/22 Bolt Shims you sold me were amazing. The accuracy improvement was stunning. Who knew that for $10, I could improve the gun so much!? I have been trying to get this 77/22 to shoot as well as my 10/22 for years now. Different stock, bedding job, Shilen bull barrel and still, my 10/22 with 'cheap' Butler Creek barrel would out-shoot it. It was frustrating! Not anymore. The shims you sell are miracle workers. Once I got the right combo in the bolt, accuracy became a '1 hole' affair. The Ruger 77/22 now shoots any ammo I put into it much better than before, and with genuine target ammo (Wolf Target Match), it just rips one ragged hole at 50 yards if I do my part. With the 'left-over' shims, I fixed up my sons 77/22, too, and it was the same effect. In his gun, groups were cut in HALF from what they were! Amazing. Thank you so much for making a great product at a very affordable price. Your shims make such a big difference. You helped me "love" my rifle again!
Sincerely - Michael in TX
Lance-
I recently received a Ruger 77/22 in .22 Hornet after waiting almost 6 months for it. It gave pretty good patterns, not quite full choke, more like modified. No matter what I did it wouldn't do any better. In addition to terrible grouping, somewhere along the way while shooting my bullet impacts would suddenly start marching up the target to the northeast. In one case the string measured at least a foot and a half. It may have been more but the last two shots were off the target board. I went online and read that quite a few people were having trouble getting the 77/22 to group and the recommendation was shimming between the front and rear of the bolt. Your address was given so I ordered a set. I put in a .003" shim and got some improvement but not enough to crow about. I decided simply putting in a shim without testing wouldn't do it. I removed the .003" shim and put in a .004" and a .002" to equal .006". The bolt was definitely tighter! I could close it, but it didn't feel right. I took out those shims and put in a .005". Eureka! The bolt closed snugly. Next trip to the range got me groups that were worthy of the Hornet! And no more marching to the northeast. Your shims work! Thanks.
Archie M.
Fort Walton Beach, Fla.
Lance,
I have an older Ruger 77/22 Hornet that I was about to throw in the river out of frustration with accuracy. I glass bedded it, put a new trigger in it and it still wouldn't group no matter what ammo I tried. I put your shim kit in it and like magic it shoots 1 inch groups all day long. Thanks for a great product. Jeff 1/18
Lance,


Received the order today and am very satisfied. Actually better quality than expected. I had been searching for a very long time for pre-made shims for the Ruger 77/22 Hornet when another member at http://rugerforum.net/ posted your site address with high recommendations. Next time I'm in that forum I'll certainly endorse his recommendation.

Thanks for a great product - Jerry in OK
Hi Lance


I just wanted to drop you a note to let you know your shims arrived
and I am more than pleased with the results. I shimmed the bolt on my
Ruger 77/22 and the preliminary tests have been a reduction in group sizes
approximately 25 to 30%. Thank you so much for a quality product and the
prompt shipping was a nice surprise. I will certainly be recommending
your product!


Norm in Saskatchewan, Canada
Hello Lance,
My son and I have several 77/22's
My 22 hornet would not shoot at all, I tried different loads, different bullets, nothing worked.
My son told me about reading on a Ruger forum about your product . I put .007" in the hornet, not only
does it shoot great one hole at 75 yards but I am also not having the base come off the case after two reloads .
Now I am ordering for friends with the same problem .


- Fred H in MT
Target Sear Review

I just got back from the range today after installing a couple of upgrades to my Ruger 77/44.
I purchased and installed a Target Sear Kit and Trigger Shims from www.TriggerShims.com
It made a huge difference taking the pull from about 6 lbs. to a crisp break around 1.5 pounds. It was very easy to install and there are videos on the TriggerShims website listed to help. I have another 77/44 I installed a Rifle Basix replacement trigger on a few years back.... I think the Volquartsen Target Sear install is better at half the price. I ordered it on Sunday and got it today... Great service. Mike S. in Indiana
More Reviews
Lance, I received your bolt shim kit months ago and installed (1) .002 shim in the bolt. I just had a chance to shoot the rifle yesterday and I am very pleased with the difference it made. The groups at 200 meters tightened right up. I've had this rifle for about 25 yrs. and it's always shot good, but now it shoots great. I have 3 Anschutz 64 action rifles and now the Ruger is the best shooter. I will pass this information along to others who have the same rifle. Thanks, Randy in NJ
Lance, I wanted to let you know that your bolt shims worked great for my rifle. I have had the shims for a long time but today was the first time I was able to get out and try the Hornet to see if it corrected the flyers I was getting. It worked beautifully and the groups are smaller as well. I am more than satisfied with the shims. I did another Ruger 77, a .22 RF as well. Great product.
I am an old man of 86 years and I have owned that Ruger Hornet since they first came out and it was driving me nuts, I had changed scopes, sent it away to be cryofrozen and nothing seemed to work. But these shims were the perfect answer.
Thanks, George in Maine
Hello Lance,
Thanks for the fast mailing. Yesterday I when to range to test the new trigger. Very smooth and crisp. My Ruger 77/357 trigger pull went from 5.5 lbs down to 2.75 lbs . Your videos are so informative and easy to follow. Now to my next task with the bolt shims.
Regards, Craig
Good Evening Lance,
Thank you for the prompt shipping on my order again! I finally had a chance to put the sear and spring in the rifle tonight, and it went from 4.75-5.5 lbs inconsistently, to a consistent 2.75 lbs! I will recommend your store to everyone I know!
Thanks again, Joe in WY
Lance - I just bought the seat and spring kit from you for my Ruger 77/17 win mag and couldn't be happier. The kit took 5 minutes max to install and I'm very pleased with light and crisp trigger pull. With your kit installed this gun is now actually fun for precision shooting. Thank You!
Marc in MN
Lance, Shortly after my e-mail to you this afternoon my mail arrived with the kits, I had some errands to run but could not wait to get home and install them. From the time I started to the time I finished was approximately 35 minutes; an amazing time for a guy with two left thumbs. The trigger pull on my 77/22 mag was reduced from 5 1/2 lbs. to 2 3/4 lbs. : the trigger on the 77 hornet went from 5 1/2 lbs. to 2 1/2 lbs.
I'll be in touch within the next few days and order kits for my 77/17 & 77/44.
Thanks again for excellent product and excellent service
- Jim in KY
TECH TIP: Ruger Bolt Shims Review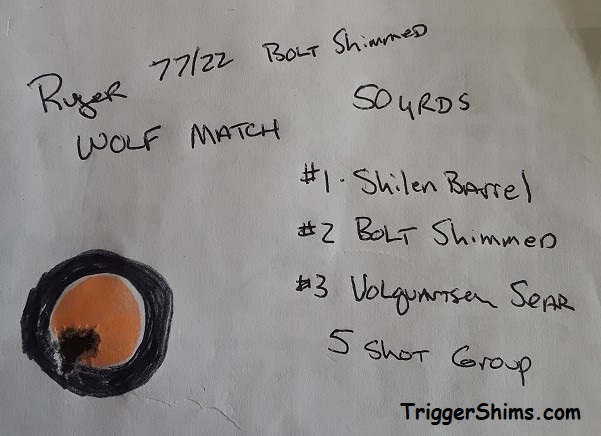 Lance, I am amazed and unbelivably happy with my Ruger.
I still haven't received my scope base yet to mount a Vortex Diamondback I have for it, so using a 1" tube package deal scope I had lying around to try my gun out with your shims and the Volquartsen sear. Now were talking !! This is my personal best at 50 yrds for a 5 shot group.

Thank you so much & God Bless ~ JM
Shim Orders ~ $3.50 UPGRADE from ECONOMY SHIPPING
Shim Orders - Add USPS TRACKING $3.50 - USA ONLY
MOST (Shims Only) orders under $50 DO NOT include Tracking and are sent in a
White Business Mail Envelope - Orders OVER $50 Include Free Tracking
You can Upgrade to USPS Mail Tracking on your SHIM ORDER for $3.50
THIS IS FOR SHIMS ONLY - ALL OTHER ORDERS Include this Upgrade


~Click the ADD TO CART button below to ADD USPS Tracking to your Shim Order
---
We Cheerfully accept Cash, Money Order, and Credit Cards through our Secure PayPal Check-Out
All Website Orders are Shipped the Next Business Day
I will Ship Shims to USA, Canada and International
Gun Parts Shipped to USA Only

"American Made Gun Shims" - GunShims.com - TriggerShims.com
and
TriggerShims is a Trademark
of
Shively Sales
Michigan Center, Michigan
Copyright 2008 ~ 2020
BY PURCHASING SHIVELY SALES PRODUCTS
YOU ASSUME ALL RESPONSIBILITY FOR THEIR SAFE INSTALLATION AND USAGE.
YOU RETAIN ANY AND ALL RESPONSIBILITY FOR YOUR OWN ACTIONS. Be Safe!!
If you have any questions or safety concerns, see a qualified Gunsmith.

Website Problems contact Webmaster@TriggerShims.com