Welcome to TriggerShims.com
Manufacturer of
Trigger Shims Brand
American Made Gun Shims
Gun Smith Supplies
Since 2008

God Bless the U.S.A.
Volquartsen 10/22 Parts
for Ruger 10/22 Rifles Rifle

World Famous Volquartsen Parts and Accessories
for the 10/22 Rifle and Mark Pistol Backed by Our Own 100% Satisfaction Guarantee!
Your Payment is Secure with our PayPal Checkout.
Gun Parts Shipped to USA Only!
See Our Installation How-To Videos
---
**************************************
Volquartsen 10/22 Target Hammer
- The Fastest, Easiest Trigger Pull Improvement you can make!!
- VC10TH - "The Trigger Job in a Bag"
Fits 10/22 Long Rifle and 10/22 Magnum
This is a very popular, fast selling kit, and a MUST HAVE for Serious Shooters!
The Volquartsen Kit includes a Target Grade Hammer which will reduce your trigger pull a minimum of 50% to approximately 3 Pounds. Hammer notch is precision surface ground, no stoning or fitting is required.
Includes 2 Volquartsen Hammer Shims, Hammer Spring, Trigger Return Spring and a set of Hammer Bushings which are needed if you are replacing the Hammer in a Plastic Trigger Housing.
Requires disassembly of the trigger assembly for installation.
Brief instructions are included, and complete installation instructions and video are available here on my web site on the
Shim Kit Installation Page.
Easy to install, no fitting, stoning, or modifications required.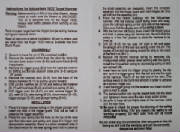 Click on Picture to the Right for Printable Instructions.
*NOTE on Plastic Trigger Housings;
We have found better results with using your Stock Trigger Return Spring on some Plastic Trigger Housings rather than the one that comes in this kit.
NOTE: Will not work with BX Trigger


Make it a Combo Kit, add an 8 Piece Stainless Shim Kit just $5.00 more,
Save $7.00!
#VC10TH Kit 2018 SALE PRICE $39.95 FREE USA ONLY Shipping -OR-
Click Arrow V to Add an 8 Pcs SS Shim kit $44.95 FREE USA ONLY Shipping
---
Hello Lance, I purchased the hammer and shim kit from you late last year and with the holidays I didn't get it installed until today. I can't tell you how pleased I am with it. The trigger is smooth as silk and the shims have taken all of the play out of the trigger. I have tried the Ruger BX25 trigger and it isn't as nice. While it's trigger pull is light there is play in trigger. I don't have a tool to measure the trigger pull, I really don't need it. The trigger just feels better.
Thank you for selling a fine product at a fair price and the individual service that you provided. Hope you and Tammy are doing well.
Regards, Joe in AL
---
Volquartsen Target Trigger VC10TT
fits - 10/22 and 10/22 Magnum
Improved trigger design gives the shooter more trigger control.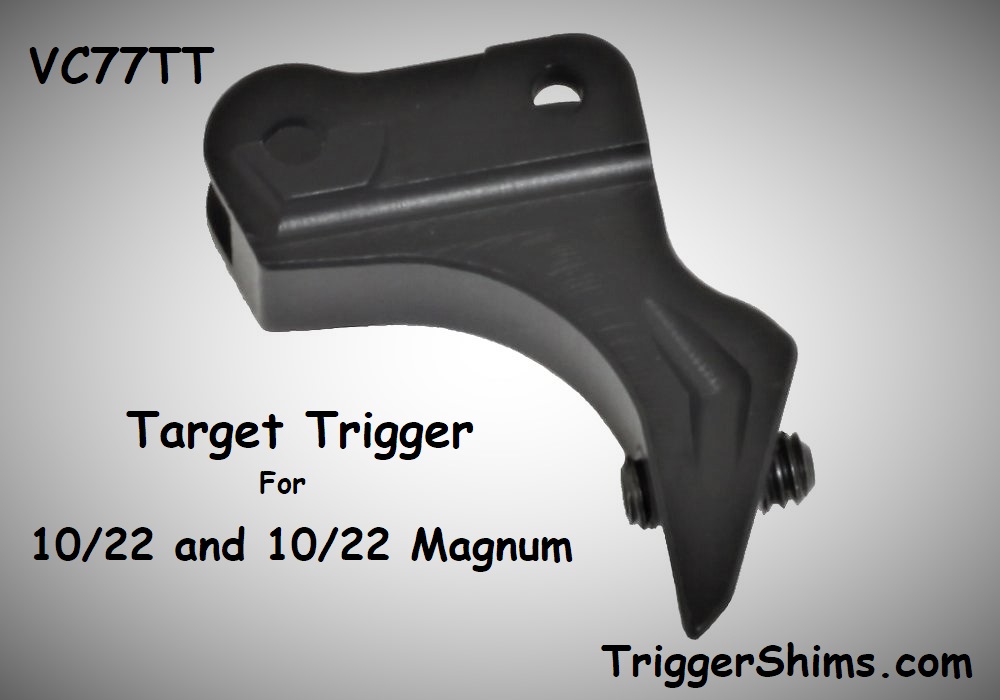 Also features an overtravel adjustment screw. Made of aluminum.
Includes Allen Wrench and 2 shims - Matte Black
This Volquartsen Trigger is as nice as any out there, Quality USA Made and
I Guarantee You Will Like It or Your Money Back!!
Note: Will NOT fit Ruger BX Triggers
Stock #WVC10TT - 30.95 Free Shipping in US Only
---
Volquartsen Automatic Bolt Release
VC10BR Silver
VC10BR-B Black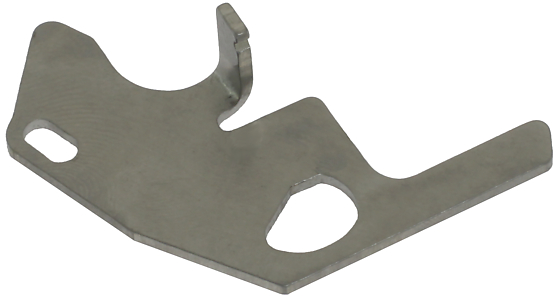 Enables Shooter to Simply Pull Bolt Back Slightly to Release the Bolt.
This Eliminates the need to Push Up on the Bolt Lock Mechanism to Release the Bolt.
This is an Easy Drop In Installation.
Another Volquartsen Must-Have Accessory, you will wonder what you ever did without it!
Instructions are on our

Shim Kit Installation Page.





Available in Silver or Black





#WVC10BR Silver $17.95 FREE USA ONLY Shipping!




#WVC10BR-B Black $17.95 FREE USA ONLY Shipping

!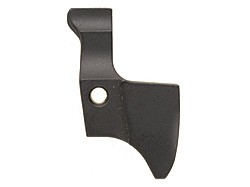 Volquartsen Extended Magazine Release
VC10MR Silver
VC10MR-B Black
The Extended Magazine Release Allows for Quick Release
of Factory Magazines.
Simply Reach in Front of the Trigger Guard
and Push Forward.
This is the Best Quality Mag Release on the Market in Our Opinion!
Fits and Works Perfectly with the Auto Bolt Release Sold Above.
Once Installed you will wonder why Ruger didn't think of this!
Available in Silver Or Black


#WVC10MR Silver $24.95 FREE USA ONLY Shipping!
#WVC10MR-B Black $24.95 FREE USA ONLY Shipping