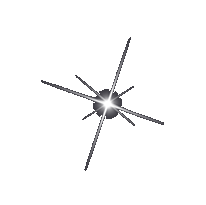 TriggerShims Christmas Shipping
To ensure your mail or packages are delivered by December 25th
December 16 – USPS Ground Advantage™ Service
December 16 – First-Class Mail® Service (including greeting cards)
December 18 – Priority Mail® Service
~Shim Only orders under $75 do not include Free Tracking ~
~ Shim Orders OVER $75 Include Free Tracking ~
TriggerShims
AR-10 and AR-15 Modern Sporting Rifles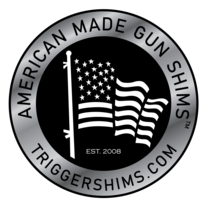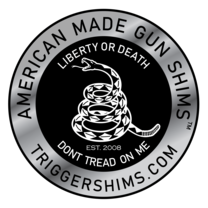 Whoever Would Overthrow the Liberty of a Nation
Must Begin by Subduing the Freeness of Speech
~ Benjamin Franklin ~
Manufacturer of
Trigger Shims Brand
American Made Gun Shims
- Home of -
TriggerShims.com
GunShims.com
ShivelySales.com
MichiganCenterOutdoors
SmallShims.com
Gun Shims
Gun Smith Supplies
Since 2008
WWG1WGA
We Manufacture the Widest Selection of Gun Shims to be Found Anywhere on the Planet
100% American Family Owned
Shively Sales - Manufacturer of
TriggerShims Brand
Gun Shims
in
Michigan Center, Michigan
"Better to be poor and honest than to be dishonest and rich." Proverbs 28:6
AR-15 / AR-10 Modern Sporting Rifle Shims
Custom Made in Our Shop from Full Hard Temper 300 Series Stainless,
the hardest temper obtainable by hard cold rolling
AR-15 Trigger Shims, Hammer Shims and Pivot Pin / Take-Down Pin Shims
Compensator Shims / Muzzle Brake Shims / Flash Suppressor Shims
AR-10 Pivot Pin / Take-Down Shims
Any Shim Available in .0015" and .002" - .009"
What AR-15 Custom Trigger Job would be complete without our Custom Made 300 Series Stainless Shims?
We Manufacture Shims to fit Mil Spec Small Pin (.154") and Colt Large Pin (.170") AR-15 Trigger Pins and Hammer Pins.
Reduces Side Play, Reduces Drag and Rubbing of Trigger Group Parts.
More Consistent Trigger Pull in your AR-15 Trigger Job.
Our Pivot Pin Shims take the Play out of your Upper to Lower Receiver.
Our Compensator Shim Kit will make Timing Your Muzzle Device Easy and Effortless.
Fantastic Product, AR-15 (Pivot Pin) Shims did the job! Work great gun feels like a finely tuned European sports car… like an Audi if I may say so! Great experience with the Shively Family!! Wish more companies were as nice as these folks are! God Bless Us Everyone!! ~ Phil in NJ
Your shims work great, I build a lot or modern sporting rifles. My latest is for my son who is a Police Officer, his life depends it so it has to be perfect. Thank You! ~ Don
Lance, Your product (Pivot Pin Shim) is fabulous!
My AR is nice and snug now without the use of the polymer wedge inside.
I'm absolutely thrilled and have already ordered more of your shims.
Great work and I'll sing your praises on the forums I frequent.
Thanks, Randy P.
Thanks for your quick response, Lance. You do make an excellent product. I've found that I can lightly sand the shim and pivot pin area with 320 wet & dry, clean with naptha or alcohol, and use Dap Rapid Fuse to adhere the (Pivot Pin) shim to my rifle. - Robert in FL
I received my purchase today thank you for your prompt service. So I was online looking for a smarter way to take a little of the wobble out of my upper and lower and I came across your video on the shims for a cop / muzzle brake just so happened I needed some so I went on so I went on your site to get them and what did I find a smarter way to take the wobble out of my upper and lower so I also purchased the pivot pin shims. God works in mysterious ways, Thanks Again I'll be sure to keep your information. - Matt in NM
Lance, Thank you for your wonderful service. The shims arrived yesterday and I installed them this morning. The difference is night and day, groups that were 2 1/2 inches at a hundred yards went to 3/4 of an inch at a hundred yards. Thank You Again for this little miracle device. Joe in PA
Lance,
I just got home and I installed one .002 shim and one .003 shim on the front takedown pin
and it cured the looseness/wobble between my upper and lower. Wow, you have a great product there guys!
Thanks, Don in Knoxville, TN
Hello Lance, I had no idea just how effective shimming my upper would be. Prior guns I've built with an Aero Precision upper and Spike's Tactical lower usually have a pretty good fit, but this particular combo required a .005 and .004 shim to remove all the slop. Sure, I went in expecting an improvement. But what I got was nothing short of jaw dropping. No play whatsoever yet the gun still opens smooth as silk with zero binding of any sort. Amazing improvement. I'm now going back and shimming all my other ARs so each is equally perfect. Glad I bought the big pack. You rock! Kevin
Hi Lance, Just wanted to let you know I'm very happy with my Front Take Down Pins Shims (Item# AR-15 PPSP) I ended up using a .003" shim on each side, and now the upper on my precision AR doesn't move from side to side. The shims were nicely packaged too. Thanks for a Great Product and God Bless You and Your Family ~ D.R. in VA
Customer Testimonial on our AR-15 Pivot Pin Shims;

Hello Lance,
I received my package of shims this week, shipping was fast, packaging and parts are in pristine condition.
I couldn't be more satisfied to purchase this assortment of AR-15 pivot shims. The option of three different sizes allows you to fit correctly. As a bench rest shooter I am confident these shims will eliminate the variance in my upper receiver. This is really a hard to find item and is a quality upgrade. It was a pleasure to do business with TriggerShims.com
Thanks.... Jim in Michigan
Hi Lance,I built one of these CMMG dedicated uppers on your suggestion. I did not want to neuter the M&P carbine lower I built, a rimfire let's me keep the look. I am very pleased with this gun and the accuracy. I have plenty of accurate bolt 22's, and love my Anschutz and M-52; but like you, it is my favorite play gun at the range. Thanks for the suggestion ~ Joe
Lance and Tammy,
I just wanted to say THANKS for the AR-15 Take Down Pivot Pin Shim Kit. It completely eliminated the play I had. You saved me a lot of time and prevented me from buying a new upper or lower. The Blue .003 shim fit perfectly. I'll recommend you on the YouTube videos and forums about the wobble most people don't like, and how to fix it. The rubber O ring "trick" seemed to work, but once you look inside they are broken. (I tried many sizes)
Live long and prosper, Sean

B. King's Firearms (BKF) is a veteran owned and operated manufacturer, specializing in AR-15 and AR-10 parts and accessories
BOX~ESU
SHIMS ONLY
$4.50 UPGRADE from ECONOMY SHIPPING
~ USA ONLY ~
(Shims Only) Orders - Add USPS TRACKING $4.50 - USA ONLY
MOST Shim orders under $75 DO NOT include Tracking and are sent in a
White Business Mail Envelope - Orders OVER $75 Include Free Tracking
You can Upgrade to USPS Mail Tracking on your SHIM ORDER for $4.50
This Upgrade includes a 6X9 Bubble Pak Mailer and USPS Tracking
(increases have driven our cost for Shipping and Packaging to Over $5)
THIS IS FOR SHIMS ONLY - ALL OTHER ORDERS Include this Upgrade


~Click the ADD TO CART button below to ADD USPS Tracking to your Shim Order
---
---
We Cheerfully accept Cash, Money Order, and Credit Cards through our Secure PayPal Check-Out
All Website Orders are Shipped the Next Business Day
I will Ship Shims to USA, Canada and International
Gun Parts Shipped to USA Only

"American Made Gun Shims" - GunShims.com - TriggerShims.com
and
TriggerShims is a Trademark
of
Shively Sales
Michigan Center, Michigan
Copyright 2008 ~ 2022
BY PURCHASING SHIVELY SALES PRODUCTS
YOU ASSUME ALL RESPONSIBILITY FOR THEIR SAFE INSTALLATION AND USAGE.
YOU RETAIN ANY AND ALL RESPONSIBILITY FOR YOUR OWN ACTIONS. Be Safe!!
If you have any questions or safety concerns, see a qualified Gunsmith.

I manage this site myself, Please Report Any Website Problems to;
Lance at Webmaster@TriggerShims.com
"We can't go home again because of the change in it and in ourselves, but it's still home, still part of us....
And that's a beautiful thought."
~ Thomas Wolfe