Thank You!
Tammy and I
Sincerely Appreciate Your Patronage

God Bless the U.S.A.

~Ollie's Links~
TriggerShims
Tuffer Buffer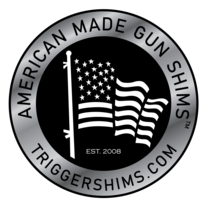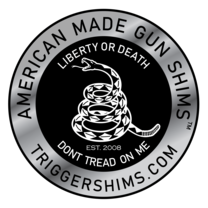 Rebellion Against Tyrants is Obedience to God

Whoever Would Overthrow the Liberty of a Nation
Must Begin by Subduing the Freeness of Speech
~ Benjamin Franklin ~
Manufacturer of
Trigger Shims Brand
American Made Gun Shims
- Home of -
TriggerShims.com
GunShims.com
ShivelySales.com
MichiganCenterOutdoors
SmallShims.com
Gun Shims
Gun Smith Supplies
Since 2008
WWG1WGA
"America is the Greatest and Most Exceptional Nation in the History of the World..." D.J. Trump 45th POTUS
100% American Family Owned
Shively Sales - Manufacturer of
TriggerShims Brand
Gun Shims
in
Michigan Center, Michigan
"Better to be poor and honest than to be dishonest and rich." Proverbs 28:6

God Bless the U.S.A.
We Recommend the Tuffer Buffer brand 10/22 Bolt Recoil Buffer
Made here in North America by our friend Kelly, a Professional Polyurethane Engineer in Canada, the Tuffer Buffer has been Tested to Withstand over 100,000 cycles! (can their buffer say that?)
Tuffer Buffer comes with an Unconditional
Lifetime Guarantee, and my Personal 100% Satisfaction Guarantee.
IF IT EVER WEARS OUT, (it won't) Return it for a 100% Full Refund!! *
**No fine print, You didn't even have to buy it from me!
Tuffer Buffer Recoil Buffer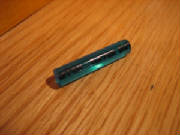 Click to Enlarge
Tuffer Buffer Recoil Buffer
I have used a recoil buffer for years, and I can say this is one upgrade you should not be without. Tuffer Buffer brand Recoil Buffers are made in Canada, and were designed specifically for the Ruger 10/22 and 10/22 Magnum. Tuffer Buffer replaces the Bolt Stop Pin (B46 on Ruger schematic) When the gun is fired, the bolt moves rearward and contacts the bolt stop pin. By replacing the factory steel stop pin with a Polyurethane Tuffer Buffer, the bolt stop impact is significantly reduced resulting in less noise but more importantly far less strain on the receiver and bolt due to metal to metal contact.
Tested to withstand over 100,000 cycles, Tuffer Buffer comes with an Unconditional Lifetime Guarantee, and my Personal 100% Satisfaction Guarantee.
Tuffer Buffer recoil buffer $9.95 Free USA Shipping
2 Pack Tuffer Buffers $15.00 Free USA Shipping
5 Pack Tuffer Buffers $30.00 Free USA Shipping
Shipping USA ONLY ~ No International Shipping Available
Use Drop-Down V Box for 2 or 5 Pak Buffer
Lance & Tammy,
We received the 10/22 "Tuffer Buffers" we ordered from you on October 10th. I have two Magnum Research Magnum Lite rifles – one in 22 LR and the other in 22 WMR. I also have a Magnum Lite 10" pistol version of that same design and all three were upgraded with your buffer. The fit was snug but easily installed and I like the flexibility of the buffer. Based on what others have experienced these should last me a lifetime. These replaced after-market buffers I had installed in place of the steel bolt stop pins, but I assume they will perform even better. I am behind on my range time, which gives me an excuse to get these three firearms out for some exercise. I found out about these from a thread on the Rimfire Central Forum and I will pass the information on to anyone who has 10/22's
Thanks and God Bless, Raymond in Nebraska
Read this customers comments;
Super Quiet Action, No More Clanging! Awesome Seller and Super Fast Shipper -- Ty
10/22 Recoil Buffer Installation Video
Ruger 10/22 Receiver and Trigger Housing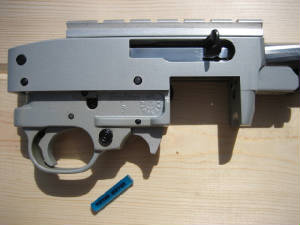 The Tuffer Buffer brand Recoil Buffer
10/22 Recoil Buffer Installation Instructions.

Safety First!
Make Sure Gun is Unloaded!
Remove magazine, open bolt and make certain there is not a cartridge in the chamber.
Allow the bolt to close. Familiarize yourself with the disassembly instructions and parts list in your Ruger Owner Manual.
Loosen the Barrel Band Screw (B-69) and remove the Barrel Band (B-68)
Loosen, but do not remove the Take Down Screw (B-65)
Position the safety so an equal amount of the button is exposed on each side. If the safety is not in the middle when the barrel-receiver assembly is lifted out of the stock, the stock will be damaged.
Swing the barrel-receiver assembly upward away from the forearm of the stock.
Be careful the two Receiver Cross Pins (B-5) and Bolt Stop Pin (B-46) do not fall out.
Remove the trigger assembly by drifting out the two Receiver Cross Pins (B-5)
(see figure 1)
Figure 1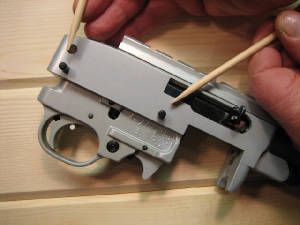 Removing Trigger Housing from Receiver
Set the trigger assembly aside, and remove the Bolt Stop Pin (B-46) with a drift.
Figure 2 shows the Receiver Cross Pins (B-5) and Bolt Stop Pin (B-46) removed.
Figure 2
Pins removed and ready to install Tuffer Buffer
Figure 3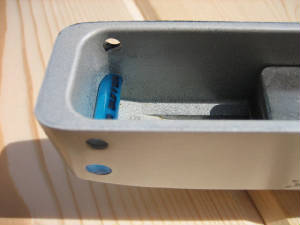 Tuffer Buffer installed in receiver
Figure Three shows the Tuffer Buffer installed.
A drop of oil and a twisting motion helps to install the new buffer.
Install the Trigger Assembly into the Receiver, and reassemble the gun.
"When the people fear the government there is tyranny, when the government fears the people there is liberty." John Basil Barnhill