Thank You!
Tammy and I
Sincerely Appreciate Your Patronage

God Bless the U.S.A.

~Ollie's Links~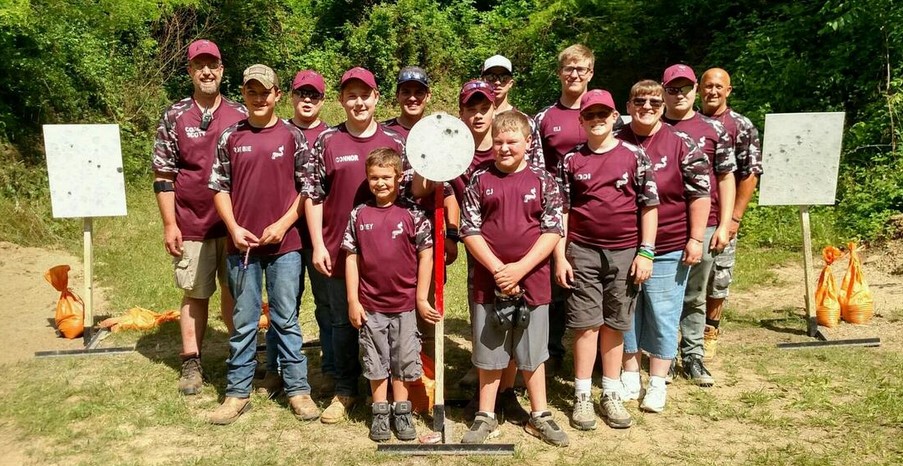 October is TriggerShims
Scholastic Shooters Month
"Children Should be Educated and Instructed in the Principles of Freedom." ~ John Adams (1787)
TriggerShims
Thompson Center T/C Rifles
T/CR22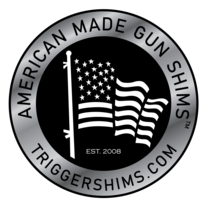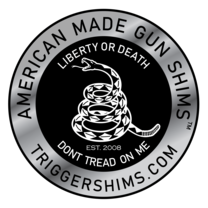 Rebellion Against Tyrants is Obedience to God
~ Benjamin Franklin ~
Manufacturer of
Trigger Shims Brand
American Made Gun Shims
- Home of -
TriggerShims.com
GunShims.com
ShivelySales.com
MichiganCenterOutdoors
SmallShims.com
Gun Shims
Gun Smith Supplies
Since 2008
WWG1WGA
We Manufacture the Widest Selection of Gun Shims to be Found Anywhere on the Planet
100% American Family Owned
Shively Sales - Manufacturer of
TriggerShims Brand
Gun Shims
in
Michigan Center, Michigan
"Better to be poor and honest than to be dishonest and rich." Proverbs 28:6

God Bless the U.S.A.
America's Largest Gun Shim Company Since 2008
Thompson Center
Shims and Info

T/C R22
Thompson Center 10/22 Clone
Thompson Center T/CR22® DIY Professional Trigger Job
Volquartsen VC10TH
Average 50% Reduction in T/CR22 Trigger Pull - See My Video
Reduce your trigger pull from a stock 4.5 to 5 lbs to a Crisp 2 to 2.5 lbs average results
Improve Your accuracy
Highest Quality American Made A2 Tool Steel Hammer
Volquartsen Quality Reputation of almost 50 Years!
BOX VC10TH
Volquartsen VC10TH Target Hammer
Ruger 10/22 and Thompson Center T/CR22
- The Fastest, Easiest Trigger Pull Improvement you can make!!
- VC10TH - "The Trigger Job in a Bag"
Fits; Ruger 10/22 Long Rifle and 10/22 Magnum ~ also ~ Thompson Center T/CR22
The Target Hammer is an the affordable way to improve the Ruger factory trigger pull and reduce the pull weight to 2.5-2.75 lb
This Kit will Drop in and give 2.5# Trigger Pull in the Thompson Center T/CR22
This is a very popular, fast selling kit, and a MUST HAVE for Serious Shooters!
The Volquartsen Kit includes a Target Grade Hammer which will reduce your trigger pull a minimum of 50% to approximately 3 Pounds. Hammer notch is precision surface ground, no stoning or fitting is required.
Includes 2 Volquartsen Hammer Shims, Hammer Spring, Trigger Return Spring and a set of Hammer Bushings which are needed if you are replacing the Hammer in a Plastic Trigger Housing.
Requires disassembly of the trigger assembly for installation.
Brief instructions are included, and complete installation instructions and video are available here on my web site on my Shim Kit Installation Page.
Easy to install, no fitting, stoning, or modifications required.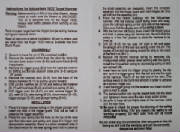 Click on Picture to the Right for Printable Instructions
*NOTE on Ruger 10/22 Plastic Trigger Housings;
Due to inconsistancies in the depth of the Trigger Return Plunger Pocket,
some trigger reset problems could occour.
We have found better results with using your Stock Trigger Return Spring on some Plastic Trigger Housings rather than the lighter one that comes in this kit
Make it a Combo Kit, add an 8 Piece Stainless Shim Kit just $8.00 more
(Save $7.00 if purchased separately!)
~ SPECIAL ADD-ON OFFER ~
Click Down Arrow V to Add an 8 Pcs .006" Shim kit $47.95 ~ FREE Shipping (USA)
Click Down Arrow V to Add an 16 Pcs .004" and .006" Shim kit $52.95 ~ FREE Shipping (USA)
#VC10TH Kit ~ MAGA 2020 SALE PRICE ~ $39.95 and FREE Shipping (USA ONLY)
NOTE:Will not work with BX Trigger
NOTE: This Kit will Drop in and give 2.5# Trigger Pull in the Thompson Center T/CR22
Thompson Center T/CR22® with Our
Volquartsen VC10TH and VC10TT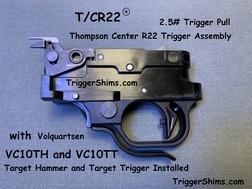 Here is our VC10TH Target Hammer and VC10TT Target Trigger Installed in a Thompson Center T/CR22
The T/CR22 Trigger and Associated Sear and Disconnector are proprietary in their size, and the Sear and Disconnector cannot be used in a VC10TT Target Trigger
In order to make this modification work, you will need to replace the Sear, and Disconnector, and slightly open up the trigger opening in the housing
I used a stock 10/22 Disconnector and Sear, the only problem being the availability of a stock sear as Ruger will not sell Sears for the 10/22
~ Watch My Video Tech Tip Below ~
To get the parts you need to modify your T/CR22 here is a list ~
Your Sear Choices Are;
Power Custom Competition Sear
Power Custom Pre-Travel Adjustable Sear
Volquartsen Target Sear
and Your Disconnector Choices are;
Power Custom Disconnector
Volquartsen Disconnector
Ruger Stock Disconnector
And you will need the VC10TH and VC10TT available here at TriggerShims.com ~
VC10TH Target Hammer Kit
VC10TT Target Trigger
TC001
TECH TIP VIDEO: Thompson Center T/CR22 Target Hammer Kit Installation Instructions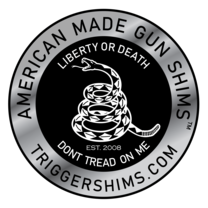 T/CR22® 8 PIECE STAINLESS STEEL 1022 SHIM KIT
Our Stainless Steel Ruger 10/22 Trigger Shim Kit includes 8 Stainless Shims and will fit all Thompson Center T/CR22® Rifles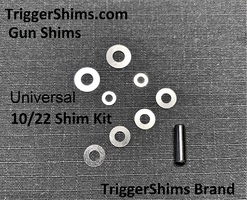 Shim #1 are 10/22 Outside Hammer Bushing Shims, 2 each in .005" thickness.
Shim #2 are 10/22 Trigger and Sear Shims, 4 each in .005" thickness.
Shim #3 are 10/22 Disconnector Shims, 2 each in .005" thickness.
Our Stainless Shim Kit will stop all side rubbing in the trigger assembly,
and comes with a 100% Satisfaction Guarantee!
" Cheater Pin" and Shis-Ka-Tool included to aid installation, U.S. Orders Only
T/CR22 Use Plastic/Universal
8 Pcs. Stainless Shim Kit $15.00 Free Shipping
For T/C R22 use our ~ 10/22 Universal Style Trigger Housing Shim Kit
BOX~18076
RUGER 10/22 RIFLE TUNE-UP PAK
All Models ~ Reduced Power
*Also Fits Most 10/22 Clones including T/C R22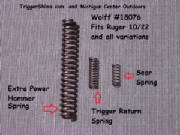 Our Most Popular Pak ~ This pak contains 1 each Extra Power Hammer Spring and 1 each Reduced Power Trigger and Reduced Power Sear Spring to improve let-off.
* does not include recoil spring
This 10/22 Kit gave my T/C R22 a 40% reduction in Trigger Pull
Reducing your Trigger Pull Increases Your Accuracy
Reduce your T/C R22 Trigger Pull to Less Than 3 Lbs
Wolff Quality Gunsprings - A Name You Can Trust
Our TriggerShims 100% Satisfaction Guarantee
Made in the USA!
Compare Our 3 Spring Set with Other 2 Spring Sets on the Market
Wolff Gunsprings = Better Value!!
Wolff Stock No. 18076 $15.95 ... Free USA Shipping/Tracking ~
No Exports on this item
Will Not Work With Ruger BX Trigger
Wolf High-Performance Target Loads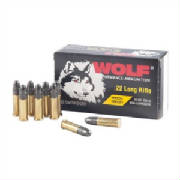 This is the ammo I use and recommend.
Five round groups in one ragged hole are possible with this ammo at 50 yards benchrest, as I have done it.
It may not be as consistent as the $15 a box stuff, but it fits my pocketbook when I want to make holes in paper!
Wolf 22 LR target ammunition is loaded with VihtaVuori powder prized by centerfire benchrest shooters for its consistent burn rates. The high-quality brass is formed using a proprietary manufacturing technique that maintains outstanding round-to-round consistency to help deliver consistent pressures and superb accuracy.
This ammo is sold and shipped through Brownell's - click the picture to go to Brownell's Wolff Ammo Page.
We hope you find what you are looking for here, but if not, Please click our Link to Visit Brownells.
TriggerShims is a Sales Affiliate with Brownell's and receives a small commision when you buy through our link.
Thank You!
BOX~ESU
SHIMS ONLY
$3.50 UPGRADE from ECONOMY SHIPPING ~ ~ USA ONLY
(Shims Only) Orders - Add USPS TRACKING $3.50 - USA ONLY
MOST Shim orders under $50 DO NOT include Tracking and are sent in a
White Business Mail Envelope - Orders OVER $50 Include Free Tracking
You can Upgrade to USPS Mail Tracking on your SHIM ORDER for $3.50
This Upgrade includes a 6X9 Bubble Pak Mailer and USPS Tracking
(our cost for Shipping and Packaging is almost $4)
THIS IS FOR SHIMS ONLY - ALL OTHER ORDERS Include this Upgrade


~Click the ADD TO CART button below to ADD USPS Tracking to your Shim Order
THIS IS FOR SHIMS ONLY - ALL OTHER ORDERS INCLUDE THIS UPGRADE
---
We Cheerfully accept Cash, Money Order, and Credit Cards through our Secure PayPal Check-Out
All Website Orders are Shipped the Next Business Day
I will Ship Shims to USA, Canada and International
Gun Parts Shipped to USA Only

"American Made Gun Shims" - GunShims.com - TriggerShims.com
and
TriggerShims is a Trademark
of
Shively Sales
Michigan Center, Michigan
Copyright 2008 ~ 2022
BY PURCHASING SHIVELY SALES PRODUCTS
YOU ASSUME ALL RESPONSIBILITY FOR THEIR SAFE INSTALLATION AND USAGE.
YOU RETAIN ANY AND ALL RESPONSIBILITY FOR YOUR OWN ACTIONS. Be Safe!!
If you have any questions or safety concerns, see a qualified Gunsmith.

I manage this site myself, Please Report Any Website Problems to;
Lance at Webmaster@TriggerShims.com
"We can't go home again because of the change in it and in ourselves, but it's still home, still part of us....
And that's a beautiful thought."
~ Thomas Wolfe