Welcome to TriggerShims.com
Home Page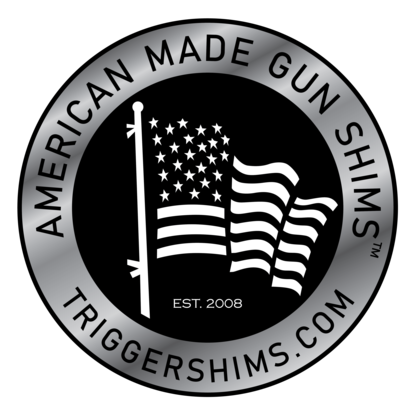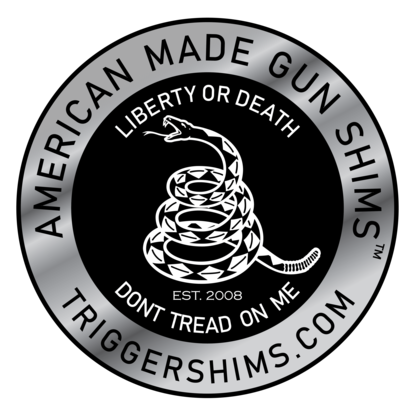 Manufacturer of
Trigger Shims Brand
American Made Gun Shims
- Home of -
GunShims.com
ShivelySales.com
MichiganCenterOutdoors.com
SmallShims.com
Gun Smith Supplies
Since 2008
WWG1WGA
"America is the Greatest and Most Exceptional Nation in the History of the World..." D.J. Trump
100% American Family Owned
Shively Sales - Manufacturer of
TriggerShims Brand
Gun Shims
in
Michigan Center, Michigan
"Better to be poor and honest than to be dishonest and rich." Proverbs 28:6

God Bless the U.S.A.
God Bless Those Who Fought and Died for Our Freedom
~Please Pray for Our President and Our Republic~
8/1 to 10/1 2020
Please Excuse Our Mess
as we finish our
Website Remodeling
We are OPEN FOR BUSINESS
(Just a little disorganized as we try to make our site more mobile friendly)

If You Need Purchase Assistance Call or Text Me at 517 499 5366
General Questions Please email:
Lance@TriggerShims.com
If you have suggestions or thoughts on our new site,
Let me know - Webmaster@TriggerShims.com
Thank You, Lance
---
We Have NO Shipping Delays
due to
WUHAN VIRUS
TriggerShims ALWAYS Ships Your Order no later than the Next Business Day
~HOWEVER~
USPS HAS Delivery DELAYS
due to
WUHAN VIRUS
Most USPS Mail Sorting Facilities are located in Major Metropolitan Cities,
and these mail processing centers are experiencing severe Staffing Shortages. The USPS in many areas are overwhelmed by the
China Virus Work Procedures and Reduced Staffing, and Holidays,
and USPS DELIVERY of many of our orders are taking much longer than normal.
USPS Mgt has told me they cannot force people to come to work.....
These are Truly Extraordinary Times
While I Appreciate Your Patience, if your order has not arrived by 7 to 9 business days, (or 30 days International) Please let me know ~ Thank You, Lance
---
"If ye love wealth greater than liberty, the tranquility of servitude greater than the animating contest for freedom, go home from us in peace. We seek not your counsel, nor your arms. Crouch down and lick the hand that feeds you; May your chains set lightly upon you, and may posterity forget that ye were our countrymen." ~ Samuel Adams
Shively Sales is the Original Manufacturer of
TriggerShims Brand Gun Shims
all USA Made Trigger Shims and Gun Shim Kits
We Manufacture a Wider Selection of Gun Shims
than any other Company in the World
GunShims.com GunSmith Supplies
We Manufacture Gun Shim Kits for the Ruger 10/22, Mini-14, Smith and Wesson J-Frame, K, L, and N Frame, Ruger Single Action Old Model, Ruger Single Action New Model, Ruger Double Action including the Redhawk, Super Redhawk, SP101 and GP100 along with
Gun Shims for the AR-15 Both Mil Spec and Large Pin Colt, Taurus, Henry Rifle, Sig Sauer, Winchester
and the Ruger 77/22 Rifle
The Original TriggerShims Brand 77/22 Bolt Shims
We feel our Ruger 10/22 shim kit is the most complete Gun Shim kit on the market, and our Smith and Wesson J-Frame and Ruger Double Action shim kits are, to our knowledge, the only ones made!
We sell products from many fine U.S. and North American manufacturers such as; Wolff Gunsprings, Volquartsen Custom, Tuffer Buffer 10/22 Bolt Buffer, Power Custom, Leapers UTG Pro, Gibbs Brand, Gun-Guides and others.
We carry a Large Selection of Ruger Gun Springs, Smith & Wesson Gun Springs, Colt Gun Springs
Sporting Goods and Outdoor Items of the
Foremost Quality for Your Consideration.
AND
Everything We Sell is Backed by Our Personal 100% Satisfaction Guarantee,
Lance and Tammy Shively, Proprietors
Questions? Call /Text Lance at 517-499-5366
and leave me a message, I will call you back
If you won't sign-up with the NRA now, don't complain when the Government insists you sign up for Gun Registration later. ~ L.C. Shively
New at TriggerShims.com
Bergara B14-R Bolt Shims
Thanks to TriggerShims Field Tester Tony in KY for asking for these shims
The Bergara B14-R's two-piece bolt features a spacer/shim that sets the rifle's headspace. TriggerShims offers a spacer kit that will allow headspace adjustment in 0.001 increments.
Click on Picture to Jump to Bergara Page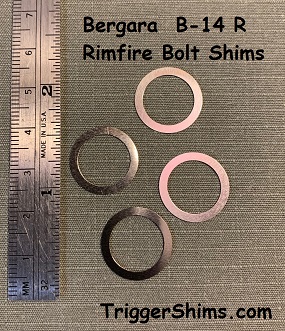 Our Popular Pages
Our Full Index is on the Left Side Top
Wolff Gun Springs
Springs and Kits for Popular Firearms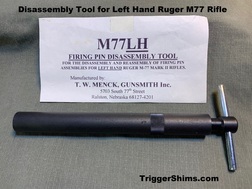 NEW ITEM:
TriggerShims Bolt Tool for M77
Left Hand Rifles
This is my M77LH Bolt Tool - to my knowledge,
this is the only LH Bolt Tool made for these rifles.
Used to disassemble the Firing Pin and replace the striker spring
Works with Ruger M77 Mark II Left Hand Rifles
Free Shipping ~ USA Only ~
REMINGTON® / RUGER® BOLT DISASSEMBLY TOOL #2020
New Remington and Ruger Bolt Tool - For Disassembly of Remington 600, 700 and Ruger M77 and 77/22-17 Rifle Bolts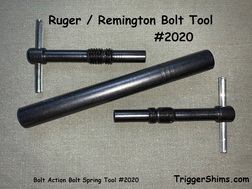 As of 2020 ~ We have acquired another Small Lot of Menck Bolt Tool parts and have a fair quantity of tools now on hand
All Tools are Top Shelf Quality, The #2020 Menck Remington and Ruger Bolt Disassembly Tool,
Available Only at TriggerShims.com
7-1/2" steel tool makes bolt disassembly simple. For Remington 600, 700 and Ruger 77 bolt action rifles.
Eases Disassembly Of Firing Pin & Spring In Remington 600-700 Series and Ruger M77
One end for Remington 600-700 series bolts including XP-100 and 40;
The other end for Ruger M77 and 77/22-17 and 357/44 Caliber Models
Handscrew compresses Striker Spring until cross pin can be driven out
Specially Designed to Safely Compress Without Damage to Firing Pin on 600 / 700 and M77 Models
This tool would easily cost 1.5 times our asking price to produce at today's manufacturing rates!
Own the Original Tom Menck Remington and Ruger Tool,
Designed and Originally Manufactured by a True Craftsman and Journeyman GunSmith, Tom Menck
I literally bought buckets of parts from Menck Estate, and this year (2020) I had some missing parts made and resurrected this Fine Old Tool
I have a mixture of these, some with black cross handles, some silver, you will be shipped what is available. I have had all parts freshly treated with Black Oxide for 2020, a photo copy of the Original Instructions included, and also included my own 2" hardwood dowel spacer specifically for the Ruger 77/22-17 and 357/44 models ~ You do NOT need this tool to install Our Bolt Shims
"This Bolt Tool is a Must-Have to change the Striker Spring on these Bolt Action Rifles, Makes Bolt Disassembly a Breeze, Well Made and Worth Every Penny!"
~ Ralph the Gunsmith in MI
Buy Two or Three and Save $$$!
TECH TIP VIDEO:
Menck Bolt Tool demonstrated below on a Ruger 77/22 by Lance
Our Latest Reviews
Perfect Shim to Perfect my Charter Arms Pitbull
Mr. Shively, The shim packs that I ordered last week for my Charter Arms Pitbull 9mm revolver arrived on time. Thanks to your tutorial videos, I installed a pair to smooth the hammer action and one to tighten up (with a small dab of gun grease) the cylinder crane to my satisfaction. From this day forward I'll recommend Trigger Shims products to those in need of 'tuning' their pistols. My appreciation, J. in Va
Lance definitely runs a Top Notch Business! 3 days before taking grandson on a boar hunt in Texas I decided I needed a lighter trigger in my 77/357 he would be using.
After a couple phone calls and a few texts with Lance my new VC77TS Sear Kit was on the way, he made sure it was shipped out quickly so I had it in time, his videos made for a easy installation and grandson could definitely tell a big difference. Jerry from Ohio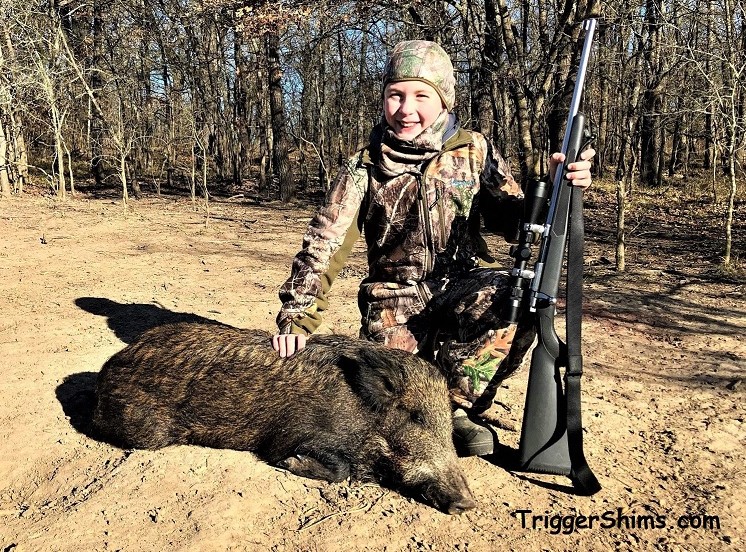 Lance, thank you for the prompt shipment of my 7/22 Ruger bolt shims which I received today. I couldn't wait to try them out. Your YouTube video was very straightforward and helpful on the install of the shims.
I ended up having to use .006" of shims to get the positive results that I had hoped for. Your shims transformed my Ruger 7/22 and my Leopold 3 x 9 EFR scope from a boat anchor into a tack driver!!! Prior to installing the shims the best three shot group I could achieve was about like a half dollar Size group at 50 yards using CCI ammo. After installing the shims I am pleased to report I now can achieve a three shot group at 50 yards using the same ammo that I can cover with a dime. That is about the best these 65-year-old eyes can do. Thank you for resurrecting my rifle and scope into a shooter!
Thanks and God bless, Michael in AR
Our How-To Video's Page Click on the You Tube Logo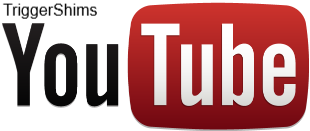 Customer Testimonial
Lance and Tammy
If I could tell the public anything about ya'll it would be: Your products are all top quality, first class, and do the job. It is obvious, to me, that you are an honest person, trustworthy are to be complimented on how you run your business and treat your customers. It is a true pleasure to deal with you. In a nutshell...You are a True American.
Joe Bob Summey
SFC, USA
Fort Lewis, WA

- Thank You for Your Service to Our Country Joe Bob, Godspeed and God Bless, - Lance and Tammy Shively
We take enormous pride in the quality of our products, and hope that you'll find something on our website that you like. We make every effort to sell MADE IN THE U.S.A. Products when available.
"The simple believes every word, But the prudent considers well his steps."
New Charter Arms Hammer Shims available on Misc. Shims Page
Home of TriggerShims Brand
Trigger Shims
Hammer Shims
Gun Shims
---
We Support Open Carry under Our Nation's Second Amendment
Right of the People to Keep and Bear Arms

Shall Not Be Infringed
Freedom is never more than one generation away from extinction. We didn't pass it on to our children in the bloodstream. It must be fought for, protected, and handed on for them to do the same, or one day we will spend our sunset years telling our children and our children's children what it was once like in the United States where men were free. Ronald Reagan - 1961
Our Shim / Spring Pages Index
Free Economy White Envelope Shipping on Shims
To Purchase Upgraded Tracking
GO HERE
Shipping/Tracking Info
Good Old Fashioned Mail Order Instructions
Colt 1911 Auto Pistol Shim Kit
Revolver Cylinder EndShake Shims
Ruger American Rifle Shim Kits
Ruger Double Action Revolver Shim Kits
Ruger Mark II III and 22/45 Pistol
Ruger Single Action Revolver Shim Kits
Ruger 77/22 77/17 Rifle Bolt Shims
S&W J Frame Revolver Shim Kits
S&W K L N Frame Revolver Shim Kits
Winchester Lever Action 94 Shims
Shipping/Mail Upgrades/Tracking Info
In a Hurry? We Value your Business!
All of Our In-Stock Items Ship the Very Next Business Day.


PAYMENTS - Visa / MasterCard

Visa / MasterCard / Discover / American Express
Payments accepted through our PayPal check-out
We Do Accept Credit Card Payments Through PayPal
You do not need a PayPal Account to Pay through PayPal
All of our Website "Add to Cart" Buttons will
open a Shopping Cart Window at PayPal showing
the Items in your Cart and Your Total - Pay with CC#
Sorry I do not take telephone charge card orders.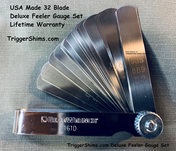 The easiest way to Measure your Trigger or Hammer assembly is with a simple blade type feeler gauge.
I sell a Nice U.S.A. Made set you can include in your orders.
It comes with a Manufacturers Lifetime Warranty
This 32 Blade Gauge will measure from .0015" up and is perfect for general use.
The price is $16.95 and includes Free Shipping
"How little do my countrymen know what precious blessings they are in possession of, and which no other people on earth enjoy!" ~ Thomas Jefferson
Hammer Shims for GP100 - SP101 - Redhawks
---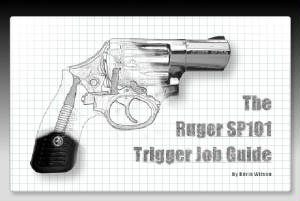 Step by Step Guide on Disassembly and Polishing
SP101 ~ GP100 ~ Super RedHawk / Alaskan and Redhawk Revolvers
Kevin Wilson's Trigger Job Guide
Applies to all Large Frame Ruger
Double Action Revolvers
---
---
We Cheerfully accept Cash, Money Order, and Credit Cards through our Secure PayPal Check-Out
All Website Orders are Shipped the Next Business Day
I will Ship Shims to USA, Canada and International
Gun Parts Shipped to USA Only

"American Made Gun Shims" - GunShims.com - TriggerShims.com
and
TriggerShims is a Trademark
of
Shively Sales
Michigan Center, Michigan
Copyright 2008 ~ 2020
BY PURCHASING SHIVELY SALES PRODUCTS
YOU ASSUME ALL RESPONSIBILITY FOR THEIR SAFE INSTALLATION AND USAGE.
YOU RETAIN ANY AND ALL RESPONSIBILITY FOR YOUR OWN ACTIONS. Be Safe!!
If you have any questions or safety concerns, see a qualified Gunsmith.

Website Problems contact Webmaster@TriggerShims.com