Thank You!
Tammy and I
Sincerely Appreciate Your Patronage

God Bless the U.S.A.

~Ollie's Links~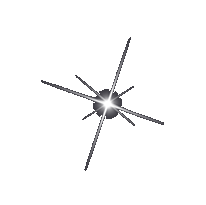 TriggerShims Christmas Shipping
To ensure your mail or packages are delivered by December 25th
December 16 – USPS Ground Advantage™ Service
December 16 – First-Class Mail® Service (including greeting cards)
December 18 – Priority Mail® Service
~Shim Only orders under $75 do not include Free Tracking ~
~ Shim Orders OVER $75 Include Free Tracking ~
Welcome to TriggerShims.com
Manufacturer of
Trigger Shims Brand
American Made Gun Shims
Gun Smith Supplies
Since 2008

God Bless the U.S.A.
God Bless America
Live Free or Die

Scope Rails and Mounts

Accushot Scope Rails and Mounts on this page are manufactured by
Leapers Inc. headquartered here in Michigan and are imported.
Precision Machined from Aircraft Grade Aluminum Alloy for Maximum Strength with a Matte Blace Anodized Finish,
they offer Good Looks and Value for the Buck!
Michigan Center Outdoors is an Authorized Dealer for Leapers Products,
so we can offer you the Factory Warranty along with Our Own
Personal 100% Satisfaction Guarantee!


USA ONLY
---
MNT-BR101TR-A
M4 AR-15 Tri-Rail Barrel Mount
Fits Three Barrel Sizes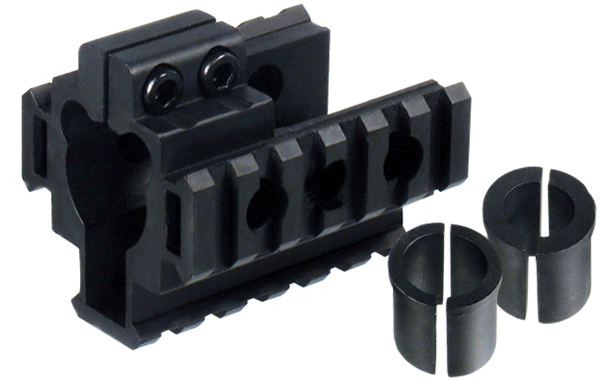 Length: 2.6 Inch
Width: 2 Inch
Height: 2.2 Inch



Comes Complete with 2 Sets of Adaptors for Perfect Fit on:
Standard Barrel
Bull Barrel
Light Weight Barrel
Attaches to AR-15 Barrel and Compatible with
A2 Front Sight and Bayonet Lug
Made from Aircraft Aluminum with Black Anodizing
Includes Left, Right and Bottom Picatinny Rails, 6 Slots Each
#WMNT-BR101TR-A $29.95 Free Shipping USA ONLY




$29.95 Free Shipping USA ONLY
---
Scope Rails
MNT-MB500T
Mossberg 500 Shotgun Top Rail Mount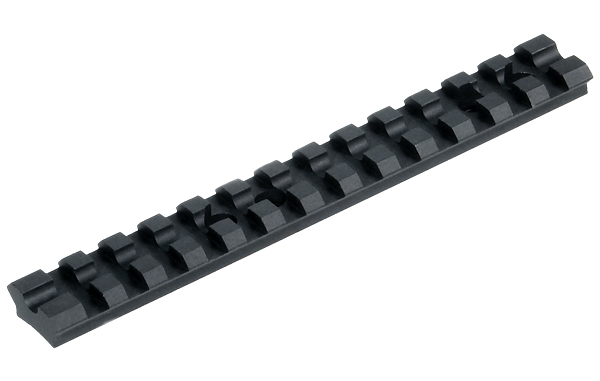 Length 5.5"



Aluminum Top Rail Mount
Picatinny Rail with 13 Slots for Convenient Scope Installation




Comes with Screws for Model 500 Made After 1998





#WMNT-MB500T $15.95 Free Shipping USA ONLY
---
MNT-RM700
Model 700 Long Action Rifle Scope Mount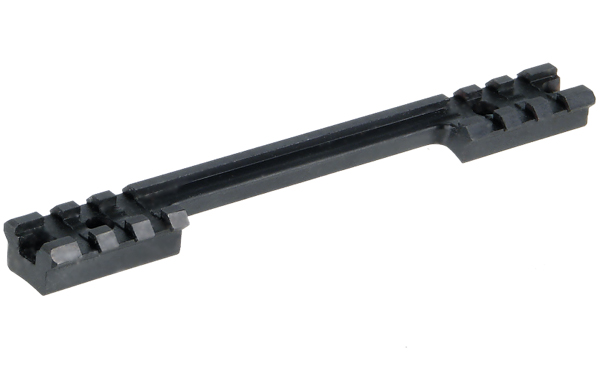 Length 6.3"


High Quality Steel Base with Matte Black Finish
6 Picatinny Slots
Half Cut In Mid Section for Shell Ejection
Locking Screws Included
#WMNT-RM700 $24.95 Free Shipping USA ONLY
---
MNT-RM870A
Model 870 Shotgun Tactical Scope Mount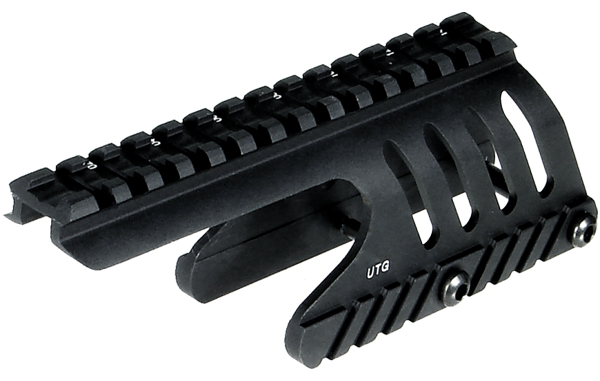 Length 7.5"
Height 2.6"
Width 1.9"
Aircraft Aluminum with Matte Black Finish
14 Picatinny Slots
Low Profile with See Through Design and
V-Cut on Top Rail Allowing Use of Iron Sights


#WMNT-RM870A $33.95 Free Shipping - USA ONLY
---
BOX~ESU
SHIMS ONLY
$4.50 UPGRADE from ECONOMY SHIPPING
~ USA ONLY ~
(Shims Only) Orders - Add USPS TRACKING $4.50 - USA ONLY
MOST Shim orders under $75 DO NOT include Tracking and are sent in a
White Business Mail Envelope - Orders OVER $75 Include Free Tracking
You can Upgrade to USPS Mail Tracking on your SHIM ORDER for $4.50
This Upgrade includes a 6X9 Bubble Pak Mailer and USPS Tracking
(increases have driven our cost for Shipping and Packaging to Over $5)
THIS IS FOR SHIMS ONLY - ALL OTHER ORDERS Include this Upgrade


~Click the ADD TO CART button below to ADD USPS Tracking to your Shim Order
---
---
We Cheerfully accept Cash, Money Order, and Credit Cards through our Secure PayPal Check-Out
All Website Orders are Shipped the Next Business Day
I will Ship Shims to USA, Canada and International
Gun Parts Shipped to USA Only

"American Made Gun Shims" - GunShims.com - TriggerShims.com
and
TriggerShims is a Trademark
of
Shively Sales
Michigan Center, Michigan
Copyright 2008 ~ 2022
BY PURCHASING SHIVELY SALES PRODUCTS
YOU ASSUME ALL RESPONSIBILITY FOR THEIR SAFE INSTALLATION AND USAGE.
YOU RETAIN ANY AND ALL RESPONSIBILITY FOR YOUR OWN ACTIONS. Be Safe!!
If you have any questions or safety concerns, see a qualified Gunsmith.

I manage this site myself, Please Report Any Website Problems to;
Lance at Webmaster@TriggerShims.com
"We can't go home again because of the change in it and in ourselves, but it's still home, still part of us....
And that's a beautiful thought."
~ Thomas Wolfe