*********************

Rimfire Rifles
H001 / H003 Series
Henry Rimfire Lever Action Rifle Lever, Hammer and Trigger Shims
Lever & Hammer (.208" X .419") - Trigger (.126" X .251")

(Review: Lance, the shims worked great. Made the rifle feel like butter. Thanks, Bill V.)
Trigger Shims will Reduce or Eliminate Friction Caused by Trigger/Frame Drag and
can give a Slightly Lighter Trigger Pull
Hammer Shims will give Better Strikes by Reducing Hammer/Frame Drag
Henry H001 H003 Rimfire
Lever, Hammer and Trigger Shim Kit
The Henry Lever Action is a classic Western-style lever action rifle, and one of the most popular .22's on the market today.
Our Lever, Hammer and Trigger Shims will fit all H001 H002 Henry Rifles including the Classic, Carbine, Youth, Magnum in .22 and .17 HMR
and all similar frame sizes .22/.17


Three Stock Thicknesses, .002", .003", and .005" or choose any thickness from 002" to 009"

Regular Assortment - 2 each Lever, Hammer and Trigger Shims is as follows:
6 Piece Kit comes with .003" Shims
12 Piece Kit comes with .003" and .005" Shims
18 Piece Kit comes with .002", .003" and .005"
24 Piece Kit comes with .002", .003", .005": and .007"
.002" through .009" Shims Available by Request
Custom Assortments Available by Request
You can choose a Quantity and Specify requested Thickness from Drop-Down Box

*********************

Henry Big Boy
H006 - H009 - H012
All Similar CenterFire

If your model is not listed,
Measure your Lever, Hammer and Trigger Pins and
check sizes below. Let me know and I will add your model number to this list.
Lever (.221" X .419")
Hammer Shims (.168" X .314")
Trigger (.095" X .251")
Henry H006, H009 H012 Big Boy
Lever, Hammer and Trigger Shim Kit
The Henry Lever Action is a classic Western-style lever action rifle, and one of the most popular Rifles on the market today.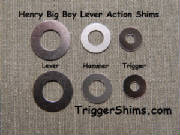 Our Lever, Hammer and Trigger Shims will fit all H006 - H009 Henry Rifles including the Big Boy and Large Caliber Rifles.

Three Stock Thicknesses, .002", .003", and .005" or choose any thickness from 002" to 009"

Regular Assortment - 2 each Lever, Hammer and Trigger Shims is as follows:
6 Piece Kit comes with .003" Shims
12 Piece Kit comes with .003" and .005" Shims
18 Piece Kit comes with .002", .003" and .005"
24 Piece Kit comes with .002", .003", .005": and .007"
.002" through .009" Shims Available by Request
Custom Assortments Available by Request
You can choose a Quantity and Specify requested Thickness from Drop-Down Box
Just installed them and what a difference....everything is nice, tight, and crisp! Thanks Again
- Mark in Fl
Your Henry big boy shim kit worked great! I did have to make my own sacrificial assembly pin out of a bamboo skewer. Once my brother and son feel what it did for my rifle, I'll be ordering again for theirs. Made an already great rifle a little tighter and smoother, with an improved trigger pull. Thanks for your great customer service.
Rob in Nebraska
---