The Fisherman's Knot Tying Tool w/ Fly and Hook Threader # 8
This One-Of-A-Kind item is a must have for Fishermen!
Made Right Here in Michigan, I can recommend this item as one of the nicest items of its kind, and back it with my 100% Satisfaction Guarantee!


One Tool $14.95
Two Tools $25.00
Three Tools $36.00
Four Tools $46.00
Five Tools $55.00
Ten Tools $105.00

FREE USA SHIPPING !!
Ships USA Only!!

The Fishermans Knot Tying Tool
Lifetime Replacement Guarantee



Here is a List of Knots the tool can help one tie;

Clinch knot
Triline Knot
Blood Knot (Clinch Method)
End Loop/Dropper Loop
J.R. Loop Knot (for Jigs and Surface Baits)
Shank Tie / Snelled Hooks
#6 Knot
Improved Surgeon's Knot
Fly Fishing Nail Knot
Blood Knot / Taper Leader's (Snell Style)
J.R. Grip-Tight Knot
Tying Plugs and Spoons, Etc.
Sliding Bobber and Bumper Stopper
#6 Blood Knot
Improved Clinch Knot
Spider Hitch Knot
Split Leaders

With the new addition to the tool, it is now easier to thread the smaller flies, lures and hooks.

Finally, a tool that all Sport Fishermen can use to tie their favorite knots. Small and light enough to fit in your vest pocket, put in a tackle box or hang from your clothing. Each end has a special function to tie different knots. All Sport Fishermen (Ideal for freshwater and saltwater anglers, fly fishermen and ice fishermen!) will realize benefits from the step by step booklet, featuring 16 popular knots. Fly fishermen will especially enjoy how simple the "Nail Knot" is made with this tool.

Precision machined contact firmly grips any fishing line, without causing damage.
Up and down spring action with stainless steel spring.
The body is manufactured of strong, lightweight Acetel Delrin for years of reliable service.
Stainless Steel Shaft, head and loop will not rust or corrode.
Attachment loop to clip onto clothing.
Grooved End for quick and easy Nail Knots and Snelling of Hooks


Instructional DVD Video
$5.00 With Purchase
Add The Filet Claw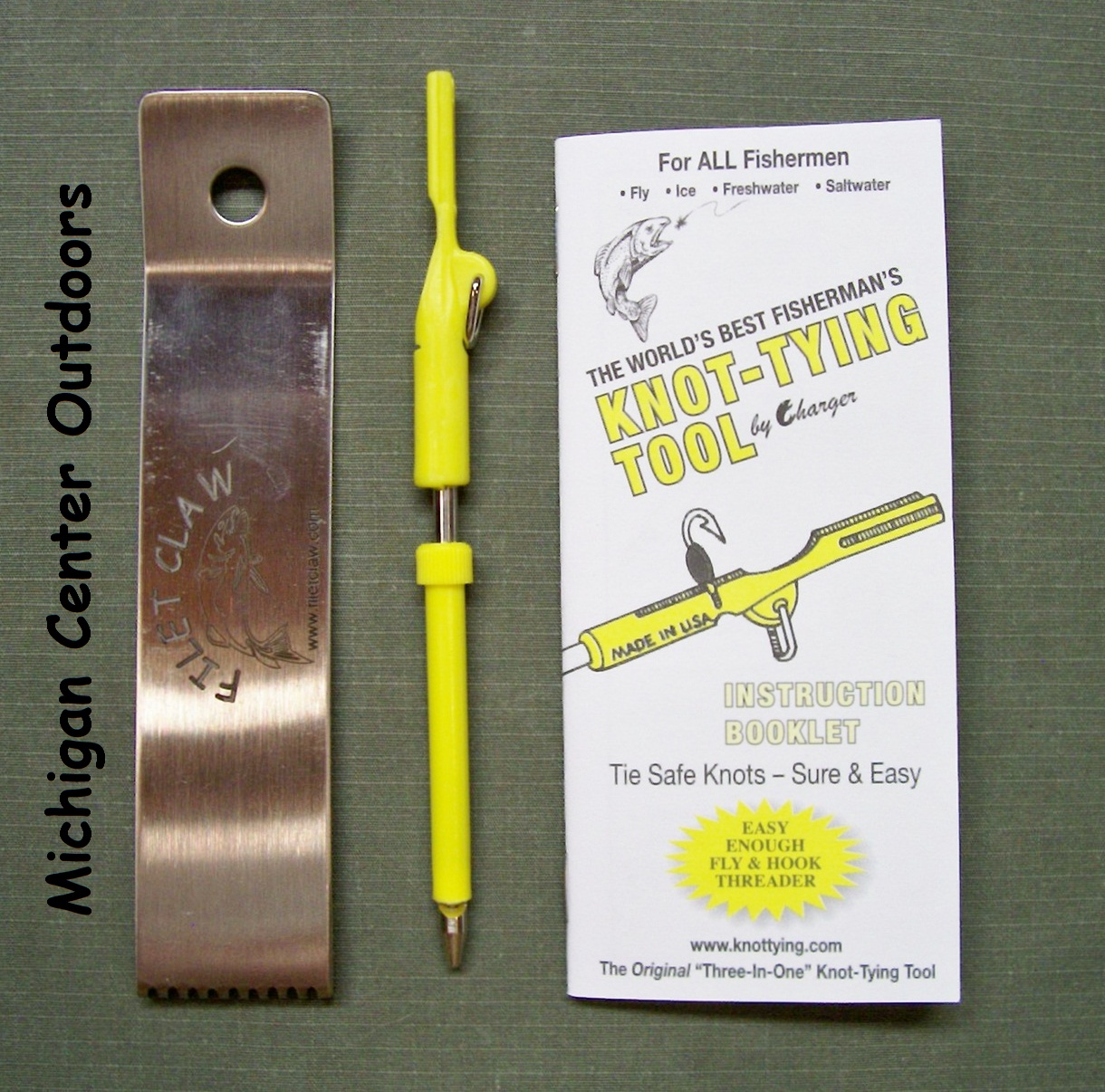 Make it a Combo Pack and Save $$
Buy a Filet Claw and a Fishermans Knot Tying Tool
For only $25.00 Shipped!!
The Filet Claw is Made in the U.S.A.
Made of Stainless Steel
LifeTime Warranty
100% Satisfaction Guarantee
The Claw and the Knot Tool Combo
$25.00 w/ Free Shipping!!