Your Payment is Secure with our PayPal Checkout.
Shipping/Mail Upgrades/Tracking Information
Choose any Pak and Specify your Thickness via Drop-Down Box,
e-mail or use "Note to Seller" in PayPal
Choose Quantity for your Best Price and Specify Thicknesses in Box Below
Multiple Thicknesses may be listed together for Quantity Pricing
Mix and Match Hammer / Trigger Shims for Best Quantity Pricing.
List Custom Mix and Sizes in Small Box Below
Dear Lance,
The shims you sent me are just what I needed, my GP100 match champion is now like a fine oiled sewing machine! I can't thank you enough, God Bless, and I will be one of your customers for a long time!
Oh, the outside diameter on the hammer shims really stabilized the hammer side shake, it drops dead square now. I am sooooo happy, well God Bless, Yours Truly, Bob in NY
Standard Paks are as Follows;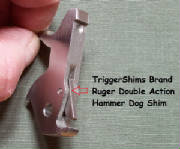 2 Pak Comes in .002"
4 Pak Assortment comes with 2 each .002" and .003"
6 Pak Assortment comes with 2 each .002", .003" and .004"
12 Pak Assortment comes with 3 each .002", .003", .004" and .005"
14 Pak GS Special - with 2 each .002", .003", .004", .006", .007", and 4 each .005"
24 Pak Assortment comes with 6 each .002", .003", .004" and .005"
30 Pak Gun Smith Special Assortment comes with 6 each .002", .003", .004", .005" and .006"
-OR- Choose any Pak and Specify your Thickness in Box
Note - Hammer Dog Clearance Varies Considerably, a 4 to 6 Pak can be stacked
or used individually to fit the Many Variations.

Buying Dog Shims with any other items? Use DISCOUNT BUTTON Below
---

**VV** DISCOUNT ORDER BUTTON BELOW **VV**
Hammer Dog Shim 2 Pak $ 3.00
** When Included With Any Other Order **
MUST Use THIS BUTTON BELOW for 2 Pak $3.00 Deal
NO LIMIT - To Receive Discount,
Purchase MUST be Shipped with Other Items.
Order Regular Assortment as listed above,
OR
You can also order Any Thickness,
Use TEXT BOX below
---
cylinder removal
https://youtu.be/WwrSW2wbdhY
ejector and center pin removal
https://youtu.be/rw5kzPAuk3w
---
---
---
Hello Lance,
A few years ago I ordered a custom set of trigger and hammer shims for a Ruger GP-100. They installed easily and made a huge difference in the feel of the action. It feels like the gun's internals have been polished when it's just some inexpensive shims! I also installed a spring kit brining my investment to about $25, and it feels like I had a gunsmith do an action job! I'm very impressed with your products. I've sent hundreds of rounds down range since adding the shims and springs, and everything is still running great. I'll be purchasing an SP-101 in a few weeks, and will be measuring it for shims and springs as soon as I get it home.
Thanks again for producing such a great product.
-Aaron in Michigan