The Original Manufacturer of
TriggerShims Brand
Trigger Shims
Sear Shims
Bolt Shims

Wolff Spring Kits
Volquartsen Target Sear for
Ruger 77/22, 77/17, 77/22 Hornet, 77/44 and 77/357
---
---
---
Striker Spring Bolt Compression Tool
---
Your Visa/Mastercard Payment is Secure with our PayPal Checkout.

Gun Parts/Spring Kits- SHIP USA ONLY!
We do Ship Shims to Canada and Internationally
See our "Contact Us" Page for Details.
Our Shims are Available in .002" through .009"
Order Any Kit on This Page and Request Custom Sizes via Email.
---
Shipping/Mail Upgrades/Tracking Information
---

TriggerShims 77/22 Bolt Shim Kit
*The Original 77 Bolt Shims*

How Does a Bolt Shim Work?
The actual head space is in the recessed face of the bolt. Shimming between the two bolt halves ensures the bolt is up tight against the breech. If the bolt is not up tight against the breech it tends to cause misfires and light strikes. If you are getting misfires and light strikes shimming the bolt is a good way to solve it.
Accuracy problems can sometimes be caused by a loose bolt, Our Original TriggerShims Brand Bolt Shims can
solve accuracy problems caused by a loose bolt.

TriggerShims Ruger 77 Bolt Shim 4 Pak include; 1 x .002" - 1 x .003" - 1 X .004" and 1 X .005"
for a total of .014" potential adjustment so you will be assured to have more than needed to adjust one rifle.

Our testing has shown trying to shim to less than .001" unnecessary,
and while I do make .001" shims they are I feel too fragile to be practical.
If a .002" shim cannot be installed because the bolt will not close,
or closing requires too much force, your actual working clearance
is where it should be, (.001"- plus or minus .0005")
and you are the lucky one to have a rifle from the factory
that is already in the "Sweet Spot"

Don't be fooled by copy-cats -

This is the Original TriggerShims Brand 77/22 Bolt Shim Kit!!
Used and Approved by Thousands of Shooters Worldwide!
Ruger 77/22 Bolt Disassembly Video
Ruger 77/22 Bolt Shim Installation

Our 77/22 Bolt Shims also fit 77/17
.17 WSM, .17 HMR, .22 Long Rifle,
.22 Magnum, .22 Hornet,
.357 Magnum, & .44 Magnum
The Original TriggerShims Brand
Ruger 77/22 - 77/17 Bolt Shim Paks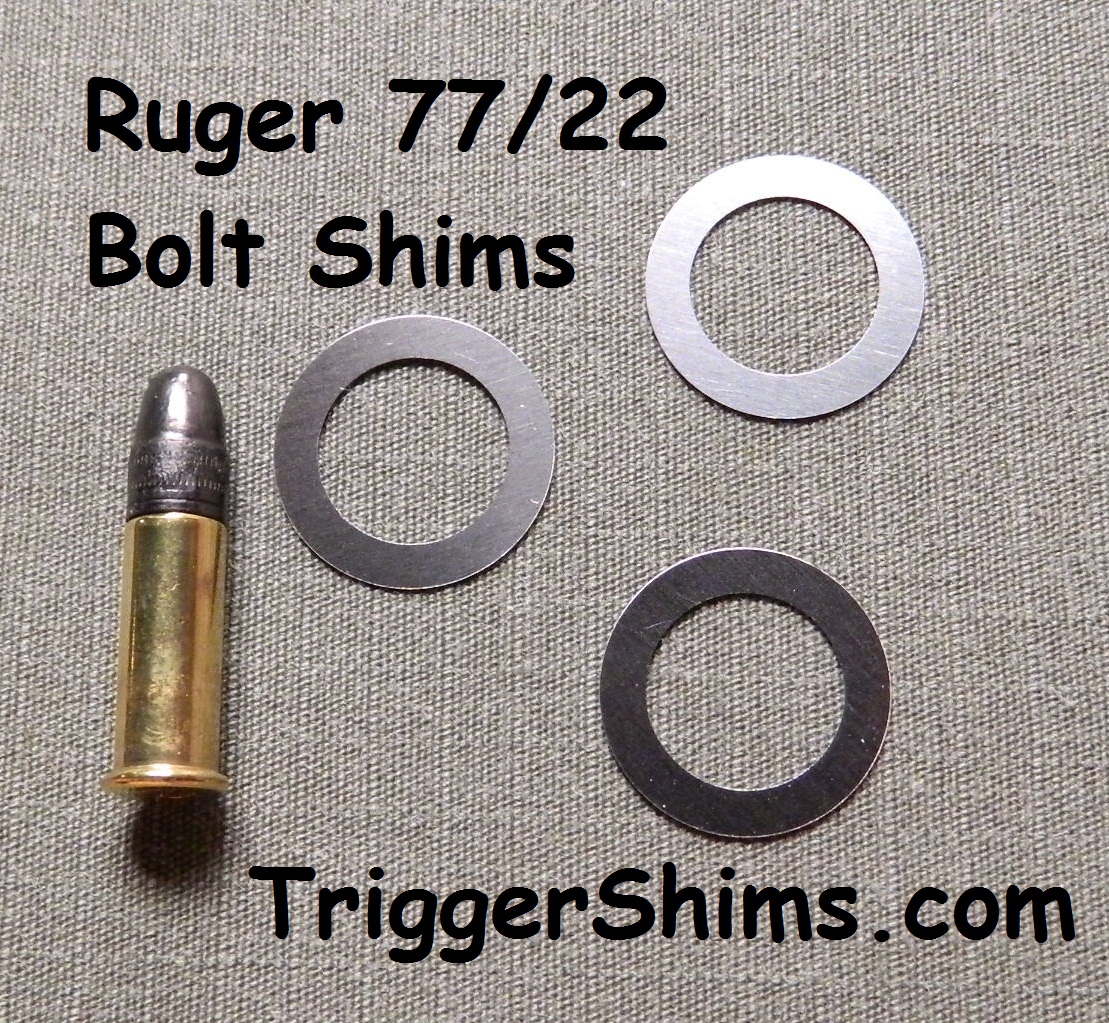 Including 77/22 Hornet, 77/44 and 77/357
Our Stainless Steel Shims will fit the 2 Piece 77/22 77/17 Bolt
or any bolt with Factory Number J1001 Bolt Handle
This includes 17 Hornet, 17 HMR, 17 WSM, 22 LR,
22 WMRF, 22 Hornet, 357 Magnum, & 44 Rem Mag
Our Bolt Shims are a nominal .440" X .650"
Available in your choice of Thickness in .001" increments; .002" .003" .004" .005" .006" .007" .008" and .009"
.001" shims are too thin/delicate to be practical. In my opinion, proper clearance is .001"
and if a .002" shim is too tight, no shim is needed.
These are the Original TriggerShims Brand 77/22 Bolt Shims - Be Aware of Imitations.
Choose Quantity from Drop Down Box below
4 Pak Assortment - $10 includes 1 each .002", .003", .004" and .005"
8 Pak Assortment - $14 includes 2 each .002", .003", .004" and .005"
12 Pak Assortment - $19 includes 3 each .002" .003" .004" and .005"
24 Pak Assortment - $24 includes 6 each .002" .003" .004" and .005"
2 Pak - $5 *Specify your size on email or at check-out

Item # SS-77/22-17BS Bolt Shim Pak - price includes Free Shipping

---
Lance,
Your shims turned an unruly Ruger 77 in .22 Hornet into a keeper. - Frank in NJ 4/19
Ruger 77/22 77/17 Bolt Shim Installation
Installing Bolt Shims requires fitting by hand, with the Bolt Installed
in the Rifle, and Locked Down. You do not measure with the Bolt out of the Rifle.

You will need one standard 4 Pak to properly fit one rifle.
You will generally only use 1 of the 4 shims in the package.
Start with the thinnest shim, (.002") and install, then check to see how your bolt closes.
As long as it continues to close normally, continue to add shims .001" at a time, stacking as necessary.
(Example = .003", .004", .005", Stack .002"+.004"=.006" .003"+.004"=.007" etc.)
When you have installed enough shims that the bolt just begins to be hard to close,
remove .001" so it closes normally or just (ever-so) slightly tighter than normal.
If you have to force or put undue stress on your bolt to close it, you should reduce the number of shims.
The Bolt Play between the Bolt Halves was designed into the assembly by Mr. Ruger
We are only concerned with the Bolt-Breech lock-up fit, and there you can have anywhere from
<.001" ( perfect) to >.005"+ which will definitely affect accuracy."
A minimum of clearance should be maintained, do not put undue stress on bolt
by shimming under .001" as it is unnecessary!

The only (easy) way to measure this is with a $10 Bolt Shim Kit, which
is both a Measuring Tool and a Fix.

Bolt Shims have in many instances cured light strikes.
Will they help with Accuracy? Don't take my word for it,
Read the Customer Reviews at the bottom of this page or on our Reviews Page.
Bolt Stuck in the Fired Position?
Watch this video, starting at 3:40
---

Hi Mr. Shively,
I meant to write you much sooner than this, but better late than never? I had to tell you that the Ruger 77/22 bolt shims you sold me were amazing. The accuracy improvement was stunning. Who knew that for $10, I could improve the gun so much!?
I have been trying to get this 77/22 to shoot as well as my 10/22 for years now. Different stock, bedding job, Shilen bull barrel and still, my 10/22 with 'cheap' Butler Creek barrel would out-shoot it. It was frustrating!
Not anymore. The shims you sell are miracle workers. Once I got the right combo in the bolt, accuracy became a '1 hole' affair. The Ruger 77/22 now shoots any ammo I put into it much better than before, and with genuine target ammo (Wolf Target Match), it just rips one ragged hole at 50 yards if I do my part.
With the 'left-over' shims, I fixed up my sons 77/22, too, and it was the same effect. In his gun, groups were cut in HALF from what they were! Amazing.
Thank you so much for making a great product at a very affordable price. Your shims make such a big difference.
You helped me "love" my rifle again!
Sincerely,
Michael in TX
---
************************************
*Trigger and Sear Shims*
Ruger 77/22 77/17 Trigger/Sear Pin Shim Paks

Our Stainless Steel Shims will fit 1/8" Trigger Pins, are 1/4" outside diameter and will fit a multitude of applications including the D19 Trigger Pivot Pin found in the 77 Rifles and variations including the 77/22, 77/17, 77/22 Hornet 77/357 and 77/44 and Mark II, M77 Mark II Sporter,
Available in your choice of Thickness in .002" .003" .004" .005" .006" .007" .008" and .009"
Choose Standard Assortment OR email me with special size requests.
2 Pak .002"
4 Pak 2 Each .002" and .003"
8 Pak 4 Each .002" and .003"
12 Pak 4 Each .002", .003", .004"
24 Pak 8 Each .002", .003", .004"
NOTE: These Shims are for the Trigger
These are NOT Bolt Shims
Item # SS-1/8TSP Shims for Trigger price includes Free Shipping

---
*************************************
*Wolff Gunsprings*
Wolff GunSprings for Ruger 77/22 Bolt Rifles
---
RUGER 77/22 .22 CALIBER REDUCED POWER
TRIGGER / SEAR SPRING
40% Reduced Spring Weight -vs- Stock Spring -
NOT 40% reduction in trigger pull weight
Free Length .830"
Will give an average Trigger Pull Reduction of 1/2 to 1 Lb
when replacing a new stock spring.
Excellent replacement when 100% reliability is important
NOTE: This is NOT a super light spring, and will be on the average
about the same weight as an old "set" stock spring.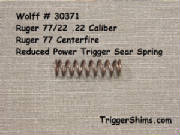 Ruger 77/17 AND 77 Centerfire Models - 77/357 77/44 77/50
Also Model 77 Mark I and II Long and Short Actions
Use this spring with the VC77TS if trigger pull is too light.
NOTE: Not for Target Models and Hawkeye Series
Not for use in Discontinued model 77
Contains: 1 Reduced Power Trigger/Sear Spring
Stock No. 30371.....$ 8.95

Wolff 30371 $8.95 Free USA ONLY Shipping
---
Ruger 77/357 and 77/44
Pak contains 1 each 23 Lb. Blitzschnell striker spring and 1 each Reduced Power Trigger / Sear Spring to Improve Trigger Pull.
Stock No. 30375.....$ 15.95

Wolff 30375 $15.95 Free USA ONLY Shipping
---
Wolff BLITZSCHNELL® precision speed-lock rifle striker springs for bolt-action rifles are made from the highest quality, high-tensile round section wires, as are all Wolff Springs. Each Blitzschnell striker spring has squared ends and is individually hand ground to provide flat seats, cleaned and oiled for long life and solid performance and require no fitting. Blitzschnell striker springs provide dramatic improvement in lock-time over fatigued and factory springs which can greatly improve accuracy and reliability of bolt-action rifles. Each Blitzschnell striker spring is individually packaged and identified, and is ready for immediate installation and use.

A Special Tool is needed to install Ruger Striker Spring - Consider Our Tool Listed Below
Ruger 77/22 Reduced Power Sear Spring Installation