---

Accessories for 77/22 - 77/17 Bolt Rifles
Volquartsen Target Sear Kit 77/17 77/22
Also Fits 77/44, 77/357 and 77/50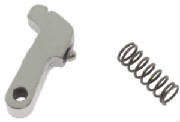 Drop-In For Crisp, Light, Trigger Pull, the Volquartsen Target Sear Kit
Greatly improves trigger pull and let-off with no fitting required. Surface-ground from hardened steel, sapphire honed and polished with a special return sear spring.
Designed to reduce the Trigger Pull to approximately 2 to 3 lbs. The mating surface is precision surface ground.
Includes Lighter Trigger/Sear Spring - Free Length .625"
Use with Wolff 30371 Trigger/Sear Spring for a slightly increased Trigger Pull - around 2.5+ Pounds.
Fits, 22 LR, 22 WMR and 17 HMR, 17 WSM and 77/22 Hornet
Also Fits 77/44, 77/357 and 77/50
New Lower Price - was $44.95 now $42.95
Stock No. VC77TS.........$42.95 - In Stock and Ready to Ship
You Will Enjoy the Trigger Pull Long After Price is Forgotten!
IN STOCK and READY TO SHIP - U.S.A. Only
I always have these in stock, but you are welcome to call me
at 517-499-5366 Cell anytime so I can tell you in person


Volquartsen 77/22 Target Sear # WVC77TS......$42.95....Free USA ONLY Shipping!
---

*****************************************
Lance, I received your bolt shim kit months ago and installed (1) .002 shim in the bolt. I just had a chance to shoot the rifle yesterday and I am very pleased with the difference it made. The groups at 200 meters tightened right up. I've had this rifle for about 25 yrs. and it's always shot good, but now it shoots great. I have 3 Anschutz 64 action rifles and now the Ruger is the best shooter. I will pass this information along to others who have the same rifle. Thanks, Randy in NJ
*******************************************
Lance, I wanted to let you know that your bolt shims worked great for my rifle. I have had the shims for a long time but today was the first time I was able to get out and try the Hornet to see if it corrected the flyers I was getting. It worked beautifully and the groups are smaller as well. I am more than satisfied with the shims. I did another Ruger 77, a .22 RF as well. Great product.
I am an old man of 86 years and I have owned that Ruger Hornet since they first came out and it was driving me nuts, I had changed scopes, sent it away to be cryofrozen and nothing seemed to work. But these shims were the perfect answer.
Thanks, George in Maine
*******************************************
Hello Lance,
Thanks for the fast mailing. Yesterday I when to range to test the new trigger. Very smooth and crisp. My Ruger 77/357 trigger pull went from 5.5 lbs down to 2.75 lbs . Your videos are so informative and easy to follow. Now to my next task with the bolt shims.
Regards, Craig
*********************************************
Good Evening Lance,
Thank you for the prompt shipping on my order again! I finally had a chance to put the sear and spring in the rifle tonight, and it went from 4.75-5.5 lbs inconsistently, to a consistent 2.75 lbs! I will recommend your store to everyone I know!
Thanks again, Joe in WY
**********************************************



Lance - I just bought the seat and spring kit from you for my Ruger 77/17 win mag and couldn't be happier. The kit took 5 minutes max to install and I'm very pleased with light and crisp trigger pull. With your kit installed this gun is now actually fun for precision shooting. Thank You!



Marc in MN


**********************************************

Lance, Shortly after my e-mail to you this afternoon my mail arrived with the kits, I had some errands to run but could not wait to get home and install them. From the time I started to the time I finished was approximately 35 minutes; an amazing time for a guy with two left thumbs. The trigger pull on my 77/22 mag was reduced from 5 1/2 lbs. to 2 3/4 lbs. : the trigger on the 77 hornet went from 5 1/2 lbs. to 2 1/2 lbs.
I'll be in touch within the next few days and order kits for my 77/17 & 77/44.
Thanks again for excellent product and excellent service
- Jim in KY
********************************
Ruger 77/22 Blitzschnell Striker Spring Installation
---
---
Menck # R&RBT Available at TriggerShims.com
Remington and Ruger Bolt Tool - For Disassembly of Remington and Ruger Bolts
As of 2/19 - We Have an Small Quantity of Menck Bolt Tools on hand
from Tom Menck's Estate - This tool would easily cost 1.5 times our asking price
to produce at today's manufacturing prices - own the Original Tom Menck R&RBT Tool,
Designed and Manufactured by a True Craftsman and Journeyman GunSmith, Tom Menck
I have a mixture of these, some with black cross handles, you will be shipped what is available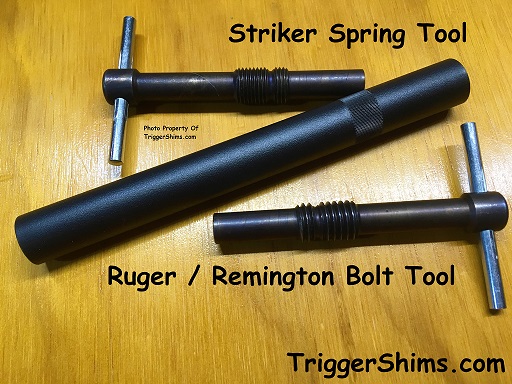 Eases Disassembly Of Firing Pin & Spring In Remington 600-700 Series And
Ruger M77
One end for Remington 600-700 series bolt actions including XP-100 and 40; the other for Ruger M77.
Handscrew compresses spring until cross pin can be driven out.
Can be used on 77/22, 77/17, 44 and 357 Models with addition of 2" X 3/8" Wooden Dowel Rod, included.
You do NOT need this tool to install bolt shims.
Price is $42.95 and includes FREE USA ONLY shipping
---