Installing the Trigger Shims.
Now its quite easy to install the Trigger and Disconnector shims.
Slide the Disconnector Pin (KE02800 - bottom pin in Figure 7) slightly out one side, about 1/8 inch, just enough that you can install a shim, put a drop of gun oil on, slide pin back in to hold shim.
Now slide the pin out 1/8" the other way, and install a shim on the other side, and the disconnector is done!
The Trigger shims will install the same way, but first you will need a Cheater Pin.
We have included a 1/8 X 7/16 steel cheater pin in our kit, or a piece of 1/8" wooden dowel rod from the hardware store works well, you may have to sand it untill it is just under 1/8" so that it will slide into the Trigger and Sear, and cut it to 7/16" in length with a razor knife.
Slide the Cheater Pin in to hold the Sear (B-23), back it out 1/8", install a shim, (see figure 7) add a drop of oil, and slide cheater pin back to hold the shim, do the same with the other side.
Reassemble Trigger and Disconnector into Trigger Housing, don't forget Trigger Return Spring and Pin, and install Trigger Pivot Pin (B-21) at the same time forcing out the Cheater Pin.. Using the same method as installing shims in Disconnector and Sear, push the Trigger Pivot Pin out one side, about 1/8", just to clear and install a shin on one side.
Do the same to the other side, add a couple drops of gun oil, and you are done with the trigger!

Install Hammer Shims with Separate Bushings
Metal Style Hammer Shims install Inside the Hammer Bushings (B-43, see figure 8)

Install Hammer Shims with Integral Bushings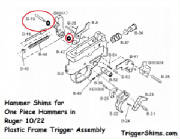 Plastic Style or Universal Hammer Shims
install
Outside
the
Hammer Bushings, between the Hammer/Bushing Assembly and the Housing
(B-19 Pin, see figure here )
On many late model guns, these bushings are cast together as one piece with the Hammer/Bushing Assembly.
If you have a Plastic Trigger Housing and a Hammer with Integral Bushings, you will need the appropriate shims for Plastic Style Trigger Housing.
Install these shims
Outside the Integral Bushing
between the Hammer/Bushing Assembly and Frame.
Add a drop of gun oil and you are ready for re-assembly.
Install
Hammer
(B-17A),
Hammer Pivot Pin
(B-19) and
Hammer Spring
(B-44)
Be sure
Bolt Lock Spring
(B-42) is on the right side and the step-leg of the spring is on the inside bottom, (see figure 2) This end of the spring will engage with the
Bolt Release
(B-41), and the straight end will be trapped under the
Ejector Cross Pin
(B-35) when installing the Ejector. Further re-assembly is simply the reverse of dis-assembly.
This Kit Will NOT Fit BX Trigger Assembly
It is of the utmost importance not to shim too tightly!
You will want some play, and
no binding on any parts.
Check firearm for proper operation before loading with live ammunition.
If you are unsure about reassembly, see a qualified Gunsmith.
You are solely responsible for the safe operation of your firearm.
If you are installing a Tuffer Buffer Recoil Buffer, click here for our installation instructions page.

Ruger Factory 10/22
Disassembly Video
Ruger Factory 10/22
Reassembly Video
Shipping/Mail Upgrades/Tracking Information


We Cheerfully accept Cash, Money Order, and
Credit Cards through our Secure PayPal Check-Out!
All Website Orders are Shipped the Next Business Day!
Shipping - Shims to USA, Canada and International
Gun Parts Shipped to USA Only!




TriggerShims is a Trademark
of
Shively Sales
Michigan Center, Michigan
BY PURCHASING SHIVELY SALES PRODUCTS YOU RELEASE US FROM ANY AND ALL LEGAL LIABILITY.
YOU ASSUME ANY AND ALL RESPONSIBILITY FOR THEIR SAFE INSTALLATION AND USAGE.
YOU RETAIN ANY AND ALL RESPONSIBILITY FOR YOUR OWN ACTIONS. Be Safe!!
If you have any questions or safety concerns, see a qualified Gunsmith.
Website Problems contact Webmaster@TriggerShims.com