God Bless the U.S.A.
Trigger Shims for the Sturm Ruger 10/22 and Variations, Mini-14, Smith and Wesson J-Frame, and Savage Rifles including the Savage Accutrigger, Winchester 94, Taurus Model 82 and 84
Our 1/8" Trigger Shims fit many firearms such as the Savage 64 BTV, 10/22, Accutrigger and others, and are available an assortment in our Trigger Shim Paks.
We Manufacturer Shim Kits for Ruger Single Action, both New Model and 3 Screw, and Ruger Double Action including SP101, GP100 and Ruger Super RedHawk.
Our Shim Kits are all Made in the USA with Made in the USA Materials.
I have many Shim Sizes Available, If you need a special size, please inquire.
See Our Gun-Guides Page for Disassembly Guides.

Your Payment is Secure with our PayPal Checkout.
Our Shims are Available in .002" through .009"
Order Any Kit on This Page and Request Custom Sizes via Email.
WANTED: Gun Shims Field Testers!

If you have a gun you would like to shim that we do not currently manufacture shims for, send us your model and your measurments, both Pin Diameter and Estimated O.D. via E-mail or our Contact Page
I will be more than happy to see what I can custom make for you.
Picture at the Right is a Henry Varmint Express .17 HMR
Ruger BlackHawk and Super BlackHawk
Ruger Vaquero and Bisley Vaquero
Revolver Cylinder/Endshake and Yoke Shims
1/8" Trigger Pin Shim Paks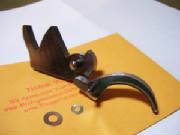 Our Stainless Steel Shims will fit 1/8" Trigger Pins, are 1/4" outside diameter and will fit a multitude of applications.
Available in your choice of Thickness in .002" .003" .004" .005" .007" .008" and .009"
Choose Quantity from Drop Down Box below, and specify thickness.

Item # SS-1/8TSP Trigger Shim price includes Free Shipping